We created Pandora to put the Music Genome Project directly in your hands
It's a new kind of radio –
stations that play only music you like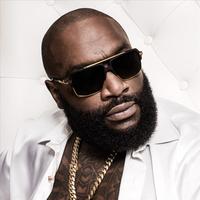 People who also like this
Tattooed with pictures of AK-47s, Miami's 6', 300-pound rap figure known as Rick Ross embraced his city's reputation for drug trafficking on his debut single, "Hustlin'," in 2006. While Atlanta and Houston artists were establishing their cities as Southern strongholds, Ross aimed at putting Miami back in rap's national spotlight. Ross, real name William Roberts, grew up in Carol City, Florida, an impoverished northern suburb of Miami. Influenced by artists like Luther Campbell and
the Notorious B.I.G.
, Roberts formed local rap group the Carol City Cartel and began rapping in the mid-'90s. (He took his rap name from Los Angeles drug kingpin "Freeway" Rick Ross, who ran one of the largest crack cocaine distribution networks in the country during the '80s and early '90s.) Ross had a brief stint on Suave House Records, former label of Eightball & MJG, before he ended up on Miami-based Slip 'N' Slide Records, the label home of
Trick Daddy
and
Trina
. During the early to mid-2000s, he became popular and well-known locally through touring with
Trick Daddy
and appearing as a guest on a few Slip 'N' Slide releases, but didn't release any solo material until 2006.
Once "Hustlin'" caught the ear of a few executives within the national industry, a bidding war ensued that included offers from Bad Boy CEO Sean "Diddy" Combs and The Inc. (formerly Murder Inc) president Irv Gotti. Nonetheless, Def Jam president and veteran rapper
Jay-Z
signed Ross to a multi-million-dollar deal. The Miami anthem "Hustlin'" went on to receive gold status from RIAA in May 2006 and sold over a million ringtone units before the physical release of his debut album, Port of Miami. Released in August 2006, Ross' debut was Slip 'N' Slide's first project under the Def Jam partnership, and it went to number one on the Billboard album chart. His follow-up, Trilla, was released the following year, prefaced with the Cool & Dre-produced title track. Early 2009 saw the release of Deeper Than Rap, an album greeted with numerous positive reviews in the hip-hop press. In early 2010 he released the Teflon Don album featuring the hit single "B.M.F. (Blowin' Money Fast)." The star-studded God Forgives, I Don't followed in 2012, with guest shots from
Jay-Z
and
Mary J. Blige
. At the start of 2013, he announced details of his sixth studio album. He enlisted the help of Scott Storch and
DJ Khaled
as executive producers and released the pre-album single "No Games" featuring
Future
. The album, titled Mastermind, landed in March of 2014 with the simultaneous release of the single "War Ready" featuring
Young Jeezy
. Just six months later, Ross announced that he would be releasing his seventh studio album, Hood Billionaire, toward the end of 2014. The album arrived in November that year and was preceded by the singles "Elvis Presley Blvd." and "Keep Doin' That (Rich B**ch)." ~ Cyril Cordor
full bio
Selected Discography
Similar Artists