We created Pandora to put the Music Genome Project directly in your hands
It's a new kind of radio –
stations that play only music you like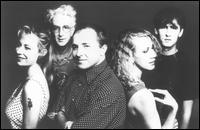 People who also like this
Although commonly considered to be the darker, artier half of the creative force of
the Go-Betweens
-- John Lennon to Grant McLennan's Paul McCartney, as it were -- Robert Forster has always had a knack for crafty pop songs along with the brooding ballads he contributed to
the Go-Betweens
' albums, and his solo career has shown a healthy mix of the two styles.
Forster, a native of Brisbane, Australia, formed
the Go-Betweens
with McLennan at Queensland University in 1978. The duo kept the band going through six albums by nearly as many lineups, progressing from stark Factory Records-style art-rock to the creamy commercial pop of their last album, 1990's 16 Lovers Lane. The group split up during the sessions for that album's follow-up, and Forster took the songs he had written for it and recorded them with fellow Australian expatriate Mick Harvey (ex-Birthday Party) in Berlin, with members of Nick Cave's Bad Seeds in the backing group. A return to the bleak starkness of the early Go-Betweens, 1990's
Danger in the Past
sounds like a creative rebirth for Forster, who had been disappointed with the slick sound of the last couple of Go-Betweens records.
If
Danger in the Past
is a stylistic cousin to
the Go-Betweens
' Before Hollywood, then 1993's Calling From a Country Phone is the equivalent of the group's superb mid-period albums like Liberty Belle and the Black Diamond Express. Largely ditching the uneasiness of
Danger in the Past
, the follow-up returns to the kind of quirky but richly melodic folk-rock that Forster does so well. During the sessions for that album, Forster began working on an album of covers, which was released the following year as I Had a New York Girlfriend. Reuniting with Harvey and the Bad Seeds' Conway Savage, Forster completely reworks the songs in his own image, with the result that songs ranging from Heart's commercial schlock "Alone" to Martha and the Muffins' new wave classic "Echo Beach" sound like Forster originals.
1996's
Warm Nights
continues Forster's artistic winning streak. Produced by Forster's old friend Edwyn Collins, the album adds strings and brass to Forster's songs and sounds not unlike a lower-fi version of
the Go-Betweens
' last two albums. The stripped-down production helps the songs immensely. At that point, Forster and McLennan started working together again, first releasing the career-spanning compilation Bellavista Terrace and the primal '78 til '79: The Lost Album in late 1998 and then touring the U.S. and recording The Friends of Rachel Worth, the first new Go-Betweens album in a decade. Three more albums and a concert DVD appeared from the reunited band before McLennan's death in 2006. Forster released his first solo project in nearly a dozen years, The Evangelist, in 2008, and it contained the last songs that he and McLennan worked on together. ~ Stewart Mason, Rovi
full bio
Selected Discography
Similar Artists