Free personalized radio that
plays the music you love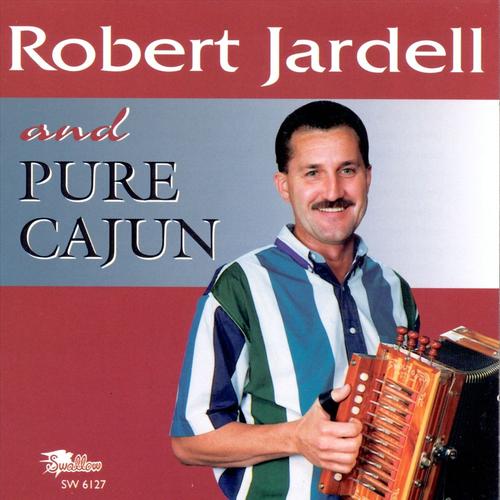 People who also like this
While many contemporary Cajun musicians carry the torch of their culture, adapting and reinterpreting the music for modern sensibilities, a few have remained faithful to the old songs and traditions. Robert Jardell is one of those keepers of the old ways. A master of the acoustic accordion, he plays and sings the old tunes about his ancestors, and writes new songs in their honor.
The music of the Cajun culture in Southwest Louisiana reflects the history of an oppressed people. It is in turn joyous and sad, proud and triumphant, reflecting the tempestuous story of the Acadians who fled Canada in the 1700s, when the British demanded they give up their French language. Proud and defiant, they traveled far south and settled in the French territory of the bayou country in what is now Southwest Louisiana. In the fertile wetlands, crops would grow. The Acadians carved out new lives for themselves, while retaining their cultural traditions. It is their story of hardship and hope that is celebrated in much of Cajun music. Robert Jardell continues to tell those stories through his dance music. You might say the culture dances its cares away as much as it celebrates life.
Robert Jardell grew up in the midst of the Cajun culture in Crowley. The Morse, LA, native took up the accordion at the age of eight. His mentors were two of Acadiana's greatest accordionists:
Nathan Abshire
and Ozanne Guidry. The young Jardell went on to play in the band of the legendary
Balfa Brothers
. He recorded and toured with them during the early days of the Cajun renaissance in the mid-'70s, and made his film debut with them in The Big Easy.
A highway crash put Jardell out of commission for five years, after which he made his way back to the stage to perform with his band, Robert Jardell & Pure Cajun. His traditional acoustic sound and old-timey music sounded a responsive chord within the Cajun community and won critical acclaim.
His group's eponymous CD was chosen by the Cajun French Music Association for its Le Cajun Award for the Best First Album of 1996. Robert Jardell & Pure Cajun were named Band of the Year, and Jardell was honored as Best Male Vocalist. And his tune, "Where Were You Last Wednesday?," was chosen as Best Song of the Year.
In 1998, the group recorded Cajun Saturday Night. Again, Jardell wrote several songs in the traditional style. He has a special ear for the unaccompanied ballads that are a fading artform in the Cajun idiom, keeping the poignant stories and melodies alive with his clear, true voice. He also relies on pieces by
Abshire
,
the Balfa Brothers
,
D.L. Menard
, and
Belton Richard
, such as "Waltz of No Return" and "Mon Coeur Fait Mal."
Jardell was filmed for the PBS show River of Song, singing traditional ballads at a crawfish boil at
D.L. Menard
's home. By hearkening to the past, Robert Jardell is ensuring its place in the future. ~ Rose of Sharon Witmer
full bio
Selected Discography
Similar Artists
Don't have a Pandora account? Sign up
Already have a Pandora account? Log In