We created Pandora to put the Music Genome Project directly in your hands
It's a new kind of radio –
stations that play only music you like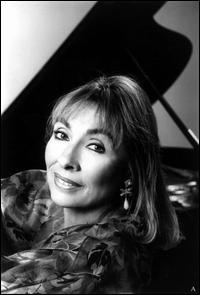 People who also like this
A classical pianist, Ruth Laredo is known for her work with pieces by Rachmaninoff. Her piano abilities are remarkable, making all the works sensuous and alive. She brings a livelihood to the works of such composers as Rachmaninoff and Scriabin, a Russian composer. Ruth Laredo performs concerts and recitals at festivals, colleges and universities and has performed with several symphonies and orchestras.
A Detroit native, Ruth Laredo frequently goes back to her native town to play concerts and recitals. She performs annually at Ann Arbor's Kerrytown Concert House. A young pianist, Ruth Laredo was interested in the classical performers and composers at an early age. She was influenced most by the composers Rachmaninoff and Scriabin.
She established her international fame as a pianist in 1970 when her renditions of Scriabin were released. On the Connoisseur record label, the album contains all 10 sonatas by Scriabin. The recordings capture the melody and harmony that Scriabin used in his pieces. Ruth Laredo released another recording of Rachmaninoff's solo hits in the 70s. Her interest in recording these composers include encouraging an interest in their style, harmony and tone. She recreates the sounds perfectly in the seventh sonata, "White Mass" and also the ninth sonata.
During the 70s and 80s, Ruth Laredo performed all over the world. Audiences are fascinated by her playing, using all five fingers to perform some pieces. For her concerts and recitals throughout the world she has performed works from such composers as Tchaikovsky, Johannes Brahams, Chopin, and Debussy. In 1984 her Scriabin works were once again released, this time on the Nonesuch label. A two-CD set, these recordings present a clearer sound than the first released LP version. In 1985 Ruth Laredo was commissioned to edit composers works which resulted in the album, The Preludes. Other albums include
My Second Recital
and Reflections From the Keyboard.
Ruth Laredo's love for classical music is evident in her grandiose style of performing. With every piece, whether it be her favorite Rachmaninoff or a classic like Tchaikovsky, Ruth Laredo puts her heart and soul into performing. Even back in her native Michigan, Ruth Laredo is welcomed with open arms to perform at festivals, concerts, colleges and universities. Although known for her musical dexterity, playing pieces that require more than five fingers a hand, Ruth Laredo's reputation was also built on her being able to make music come alive. Her harmonies and tone interact to produce a piece that calls attention to itself rather than to the pianist. Her abilities have led her to being called one of the most well-known and loved pianists of the 20th century. ~ Kim Summers, Rovi
full bio
Selected Discography
Similar Artists