Free personalized radio that
plays the music you love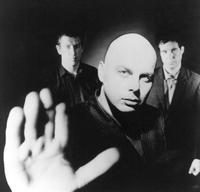 People who also like this
The Screaming Blue Messiahs
This band is very high on the "whatever happened to..." list. At times they played with such ferocity and complete over-the-top abandon that it was easy to proclaim them one of the best English bands in ages. But after three records (all very good) and about five years together (1984-1989), they vanished without a trace -- a mystery that's never been solved to satisfaction. Led by bald, bullet-headed guitarist/singer
Bill Carter
, the Messiahs specialized in loud, rampaging, rockabilly tinged sonic bomblets of songs.
Carter
wielded his instrument like a cross between
Wilko Johnson
and Pete Townshend; he was a deft soloist, but it was his tricky, complex rhythm playing that gave the band sheet-after-sheet of supercharged sound for a foundation. As impressive as his guitar playing was his voice: at times comically bawling, other times mumbling and imperceptible; in the course of a verse,
Carter
could sound righteously indignant, or suddenly frightened and confused. Add to this terse, highly imagistic songs, mostly about American iconography and popular culture (cars, guns, the Flintstones), and it made for extreme, confrontational, and very, very exciting rock & roll.
There was a significant enough buzz generated from their first EP (Good and Gone) that Elektra signed them for their debut, and Gun-Shy was a compelling debut. With
Carter
's ferocity barely contained (and even when it is, you can hear him seethe), Gun-Shy practically exploded from the get-go and was a much-needed tonic to the faux-soul and nth-generation synth pop England was delivering at the time. Supporting the record with a series of great live shows didn't hurt either, and the Messiahs were staring next-big-thing-dom square in the face. The sophomore disc, Bikini Red, was even better. Packing a ferocious wallop accentuated by the production of famed English producer Vic Maile (
Dr. Feelgood
,
Motorhead
), and the goofy "I Wanna Be a Flintstone" (along with an equally goofy video) made them flavor of the second on MTV. But things seemed to be stalling, and by the time LP number three, Totally Religious, was released, it seemed as though the zeitgeist had passed the Messiahs by. Too bad, because they were as raucous and unpredictable as anything that had come since the early days of punk. ~ John Dougan
full bio
Similar Artists
Don't have a Pandora account? Sign up
Already have a Pandora account? Log In