Free personalized radio that
plays the music you love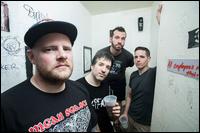 People who also like this
A positively themed metalcore band with some straight-edge leanings, Shai Hulud have maintained a strong name identity since their original formation in the mid-'90s, so despite lineup and label changes, they've created a coherent, labyrinthine history.
Shai Hulud formed in Pompano Beach, Florida, taking their name from the giant desert worms central to Frank Herbert's Dune mythology. The original lineup consisted of guitarists Matt Fox and Oliver Chapoy, bassist Dave Silber, and drummer Steve Kleisath, who split his time between Shai Hulud and Strongarm. Original singer Damian Moyal left the band during sessions for their first EP, 1997's A Profound Hatred of Man, replaced by Chad Gilbert in time for the band's full-length debut, Hearts Once Nourished with Hope and Compassion.
Over the course of several split EPs -- 1998's The Fall of Every Man with
Indecision
, 2000's Together on One Convenient Format with
Another Victim
, and Crush 'Em All, Vol. 1 with
Boysetsfire
-- the band's lineup continued its mutations, with new member Matt Fletcher first replacing Chapoy on guitar before shifting to bass, Gilbert leaving to play guitar in
New Found Glory
, and Kleisath leaving to form
Further Seems Forever
with
Dashboard Confessional
's Chris Carrabba.
By the time the band recorded their second full-length album, 2003's That Within Blood Ill Tempered, the lineup had moved from Florida to Poughkeepsie, New York, and remained a relatively stable quartet with new recruit Geert van der Velde on vocals, Fox, Fletcher, and drummer Tony Tintari. After van der Welde departed the band in 2004, Fletcher and Fox announced that Shai Hulud was disbanding following a brief farewell tour -- with Gilbert temporarily returning as vocalist -- and that the pair were forming a new band, the Warmth of Red Blood.
Following the 2005 release of the wryly titled compilation A Comprehensive Retrospective: Or How I Learned to Stop Worrying and Release Bad and Useless Recordings, Fletcher and Fox reversed course. In the spring of 2006 they announced that Shai Hulud were re-forming with a new lineup featuring singer Eric Dellon (who is also in Fletcher and Fox's tongue-in-cheek thrash side project
Zombie Apocalypse
), second guitarist Ryan Burns, and drummer Brian Go. The re-formed Shai Hulud signed with Metal Blade Records and began work on a new album in the summer of 2006, while former label Revelation Records released a compilation called A Profound Hatred of Man that gathered the title EP and all non-LP and split-EP tracks the band recorded between 1997 and 2001.
Shai Hulud's debut long player for Metal Blade was Misanthropy Pure in 2008. Its combination of neo-thrash and metallic techniques as well as intense call-to-arms vocals won them critical acclaim as well as choice spots at festivals, and headlining gigs across North America, Europe, and Asia.
Due to touring and other considerations, the group didn't release another record until 2013's Reach Beyond the Sun. It was produced by Gilbert, who also made his return as vocalist after more than a decade away. Reach Beyond the Sun showcased another sonic evolution with a more visceral, instinctive approach to composing. It embraced the raw, hardcore/punk elements that lay at the foundation of the band's influences and sound. The album charted all over the place: from a high entry in the Top 20 on the Heatseekers chart to the Top 50 and 100 on the Hard Albums charts in North America. Their supporting tour took them to Europe, Southeast Asia, and Mexico, as well as to the stage of Soundwave 2013 in Australia, where they played alongside
Metallica
,
blink-182
,
the Offspring
,
Slayer
, and others.
Though the band normally issued full-lengths every five years, Shai Hulud released a stopgap EP via No Sleep Records in late 2015, Just Can't Hate Enough X 2 - Plus Other Hate Songs. Fox explained that the sound here was different than the more compositionally formal one found on their albums. He said the music here was ..."short, fast, pissed. More MDC than
Opeth
, though we love both and sound like neither." ~ Stewart Mason
full bio
Selected Discography
Similar Artists
Don't have a Pandora account? Sign up
Already have a Pandora account? Log In