We created Pandora to put the Music Genome Project directly in your hands
It's a new kind of radio –
stations that play only music you like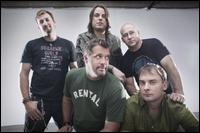 People who also like this
Combining elements of acoustic rock, folk, and jangle pop, Sister Hazel formed in 1993 in Gainesville, FL. The band's five members all boasted ties to the city's local scene; vocalist/guitarist
Ken Block
and guitarist/vocalist
Andrew Copeland
canvassed the coffee shop circuit as a duo, lead guitarist Ryan Newell honed his chops with the local band Waterdog, bassist Jett Beres studied his instrument while pursuing a degree in architecture, and drummer Mark Trojanowski played with several Florida-based jazz ensembles before pursuing a career in pop music. Forging an earthy, melodic sound that highlighted the band's vocal harmonies, Sister Hazel released an eponymous debut in 1994 before moving to a major label for their second album, 1997's
Somewhere More Familiar
.
"All for You" topped the adult alternative charts during the summer of 1997, nearly reaching the national Top Ten in the process, and the success propelled the album to platinum status. After touring heavily and taking another turn in the recording studio, Sister Hazel returned in the summer of 2000 with a follow-up album,
Fortress
. Released by Universal Records, the album was cut from the same pop/rock cloth as its predecessor, and "Change Your Mind" enjoyed modest popularity as a single.
Fortress
still failed to match the band's early success, however, and Sister Hazel were no longer part of Universal's roster by the time their next album,
Chasing Daylight
, appeared in 2003. They returned a year later with
Lift
, and despite Sister Hazel's relative absence from the airwaves, the group continued to cultivate a respectable grassroots following, using the Internet to their advantage and touring relentlessly.
Sister Hazel continued releasing albums to a small yet loyal audience, including 2006's Absolutely and a live studio performance album entitled
Before the Amplifiers: Live Acoustic
. As the decade drew to a close, the band released its seventh studio album, 2009's
Release
.
Heartland Highway
followed in the fall of 2010. ~ Stephen Thomas Erlewine, Rovi
full bio
Selected Discography
Similar Artists