Free personalized radio that
plays the music you love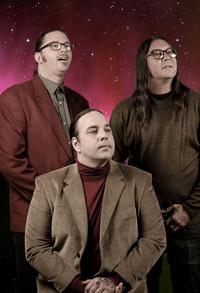 People who also like this
Perhaps the ultimate stoner rock band, Northern California trio Sleep had a career that wafted in and out of focus from within their self-mandated cloud of marijuana smoke. In their short time together, they issued some of the heaviest, most uncompromising doom metal albums ever recorded, leaving a legend far exceeding the actual volume of their output.
Formed around the turn of the '90s in San Jose, CA, by bassist/vocalist
Al Cisneros
, guitarists Matt Pike and Justin Marler, and drummer Chris Haikus, Sleep instantly drew comparisons to underappreciated '80s doomsters like
the Obsessed
,
Pentagram
, and especially
Saint Vitus
. Their sludgy 1991 debut was named Volume One in honor of their sonic godfathers
Black Sabbath
, but it wasn't until Marler's departure (reportedly to become a monk!) and the release of 1993's Sleep's Holy Mountain that their own unique doom metal vision truly began coming into focus. The album became a favorite of the heavy metal press, and Sleep were heralded alongside other promising retro-rocking groups like
Kyuss
and
Monster Magnet
as leaders of the newly emerging stoner rock/doom metal scene. Such was the buzz surrounding the group that, following a short European tour supporting first-generation doomsters
Trouble
and English hopefuls
Cathedral
, Sleep were reportedly offered an unprecedented six-figure deal by London Records. But instead of grabbing their chance at mainstream stardom for all it was worth, Sleep vowed to delve even deeper into their incredibly heavy and slothful sound instead.
After almost two years of writing and rewriting material for their next album (to be named Dopesmoker, not surprisingly) amidst abundant weed consumption, the trio finally delivered its long-awaited epic, now named Jerusalem, to London Records. But to the label's surprise, Jerusalem was comprised of a single 60-minute magnum opus to marijuana that the band refused to edit or split up into sections under any circumstances. A complete deadlock ensued, tying up both parties in red tape for another two years. Finally, having smoked their entire cash advance through their bongs, Sleep decided to break up rather than surrender the album. Guitarist Matt Pike went on to form a new, more energetic heavy metal band called
High on Fire
, while drummer Chris Haikus eventually reunited with founding guitarist (and now ordained monk) Justin Marler in the Sabians. In the meantime, an unauthorized version of Jerusalem was quietly released by Rise Above Records, but it wasn't until 2003 that a supposedly authentic and fully endorsed version of Dopesmoker finally reached record store shelves, bringing the convoluted Sleep saga to a close at last. ~ Eduardo Rivadavia
full bio
Selected Discography
Similar Artists
Don't have a Pandora account? Sign up
Already have a Pandora account? Log In