Free personalized radio that
plays the music you love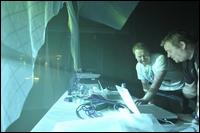 People who also like this
Brothers John and Paul Healy make up Somatic Responses, a Welsh duo who have amassed an expansive, diverse catalog of hard-edged electronic music. The duo formed in 1994 and started making hardcore acid techno, but over time their sound grew to include elements of industrial, drum'n'bass, noise, hip-hop, ambient, and dubstep. Their innovative productions are often overwhelmingly complex, featuring multiple layers of distorted beats and eerie sci-fi melodies. SR have released dozens of albums, EPs, and digital releases on labels such as Hymen Records, Ad Noiseam, Sublight, Component, and their own Photon Emissions. Somatic Responses have been a key influence on the rhythmic noise, breakcore, and IDM genres, yet have stayed relatively under the radar, never attaining the status of an
Aphex Twin
or
Autechre
.
The duo immediately established themselves as an explosive force in the hardcore techno scene when their first releases appeared in 1995 on noted labels such as
Christoph De Babalon
's Cross Fade Enter Tainment and trailblazing Milwaukee-based Drop Bass Network. Martin Damm's Shockwave Recordings released Riot Frequencies, the first SR full-length LP. 1996 saw the release of the Post-Organic EP on Christoph Fringeli's Praxis label. Around the time of releases such as 1997's Photon Emission, the duo's sound had evolved beyond its hard acid techno beginnings into the more rhythmically complex, densely constructed sound that would become their hallmark. The duo's relentless release schedule continued, with four EPs on Belgian label Six Shooter, as well as records on Deadly Systems, Underground Futuristic Organisation, Ultra Annoying Records, and many other small labels. 1999 saw the release of Circumflex, the duo's first compact disc as well as their debut for Stefan Alt's label Hymen Records, which would release many of their subsequent recordings. The album was a pivotal release in their discography, taking their sound to new levels of complexity and intensity. 2001 follow-up Augmented Lines (Hymen Records) honed this sound further, while Accidental Happiness, released the same year on Connecticut-based Component Recordings, was comparatively a breather, easing up on the intensity a bit and focusing more on atmospherics. 2002's Dying Language was the duo's first release on Ad Noiseam, another German label which would release many of their recordings. Touching the Void appeared on Hymen during the same year.
Ambitious double-CD Adverts, one of Somatic Responses' most accomplished works, was released by Component Recordings in 2003, followed by the "Spooky Pen" single taken from the album, which featured remixes by
Venetian Snares
,
Proem
, and
Emotional Joystick
. 2005 album Pounded Mass (Hymen Records) was one of the duo's hardest, most complex releases yet, building on their earlier styles but also including a significant hip-hop influence. Giauzar, the duo's 2006 album on Canadian label Sublight, expanded on this, with mutated hip-hop and electro beats and slower (yet still extremely distorted) rhythms. 2008 Hymen full-length Digital Darkness was one of the group's most overtly drum'n'bass-leaning albums, while a pair of 12"s on Belgium's PuZZling Rec. label reconnected the duo with their acid roots. Reformation, released by Ad Noiseam in 2009, was the duo's take on dubstep, coming closer to the grim, broken style of
Cloaks
or Vex'd than the more club-ready side of the genre. Mercury and Clone Aware, a pair of free releases on British netlabel Acroplane, continued their exploration of dubstep. The duo returned to Hymen in 2010 with the release of Neon, which touched on many aspects of their sound, from electro to dubstep to hard drum'n'bass. In addition to their commercially available full-lengths, the duo began issuing myriad releases on their online label Photon Emissions, most of which were made available for free. Hymen released the duo's 2011 full-length Concrete Glider, but nearly all subsequent releases were through Photon Emissions. 2014 alone saw the release of four lengthy SR albums: Gamma Ray Bursts, Hard Landing, Let's All Disintegrate, and the duo's first ambient album, Obscure the Future. Somatic Responses began working more heavily with modular synthesizers in 2015, and planned to release more physical recordings in the coming year. Folding Space, the duo's first album for Hymen in five years, appeared in February of 2016. ~ Paul Simpson
full bio
Selected Discography
Similar Artists
Don't have a Pandora account? Sign up
Already have a Pandora account? Log In