We created Pandora to put the Music Genome Project directly in your hands
It's a new kind of radio –
stations that play only music you like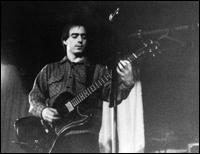 People who also like this
Songs: Ohia was one man -- Jason Molina -- a tenor guitar-wielding songwriter from the shores of Lake Erie. Critics often compare Songs: Ohia to Palace/
Will Oldham
, and while sonically the comparison is valid, Molina's ardent, soul-searching lyrics were more aptly compared to
Neil Young
or
Leonard Cohen
. Molina was born in Lorain, Ohio. Growing up on a heavy dosage of
Black Sabbath
, Molina began his musical career playing bass in heavy metal bands around Cleveland. Always a songwriter, Molina eventually decided to perform and record solo with help as needed. He developed a method of tuning his guitar that complemented his voice and worked with his background as a bass player. Finding his niche in indie rock circles, Molina made home recordings under the names Songs: Albian, Songs: Radix, and Songs: Unitas to pass out at live shows. Settling on Songs: Ohia, Molina released a single on the Palace label in 1996. The first Songs: Ohia full-length followed in 1997; released on the Secretly Canadian label, the self-titled album garnered critical acclaim. Songs: Ohia continued to release full-length albums -- including 1998's
Impala
and 1999's
Axxess & Ace
-- and a number of singles on various American and European labels, and won a large following in many European countries, most notably Holland and Germany.
In 2000, Songs: Ohia released two albums,
The Lioness
and
Ghost Tropic
, which featured musical assistance from
Alasdair Roberts
(Appendix Out) and Shane Aspegren (Lullaby for the Working Class); the latter album saw Molina beginning to incorporate ethnic musics into his compositions. After the limited-edition, tour-only CD Protection Spells, Songs: Ohia released its first live set in late 2001. Documenting an Italian show from the previous year, a large part of Mi Sei Apparso Come un Fantasma (You Come to Me as a Ghost) consisted of unreleased (and as yet untitled) songs. By this time, Jason Molina had given his tenor guitar a rest in favor of a regular six-string instrument and had put together a full band to back him. However, 2002's
Didn't it Rain
found Molina working with members of neo-bluegrass outfit Jim & Jennie & the Pinetops, achieving an almost gospel sound that was a vast departure from the dense feel of
Ghost Tropic
.
Constantly recording and writing new songs, Songs: Ohia released a handful of singles and EPs in 2002, including a split EP with Louisville's
My Morning Jacket
and a collaborative EP (under the name
Amalgamated Sons of Rest
) with
Will Oldham
and Ali Roberts. Pyramid Electric Co. and
Magnolia Electric Co.
, originally conceived as a double album, were released separately in early 2003. The former, a sparse solo album, was recorded with Mike Mogis (from Lullaby for the Working Class) while the latter featured a full band and was recorded by Steve Albini. Sadly, Jason Molina suffered from alcoholism for years, which ultimately led to his death from organ failure in March 2013 at the age of 39. ~ Jason Nickey, Rovi
full bio
Selected Discography
Similar Artists