Free personalized radio that
plays the music you love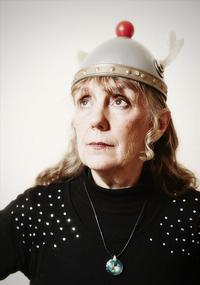 People who also like this
Armed with her trusty battery-powered keyboard and wearing her winged helmet, the Space Lady's playfully ethereal cover songs and originals made her one of Boston and San Francisco's most distinctive street performers during the '80s and '90s -- and later, a well-regarded outsider artist. The money Susan Dietrich Schneider earned busking was her family's sole source of income while they hid from the U.S. government for two decades, but word of mouth about her unique, affecting music gained her a following that allowed her to tour and record in the 2010s.
Born in Las Animas, Colorado in 1948 to a music-loving family, Schneider dreamed of being a folk singer in her teens and at age 20 had a surgery-induced out-of-body experience that convinced her of the existence of alien life. She met her first husband Joel Dunsany, a street musician, when she moved to San Francisco after attending the University of Colorado. In order to avoid the Vietnam War draft, the couple destroyed their IDs and went into hiding -- at one point living in a cave in Mount Shasta -- even after they had three children and President Carter pardoned demonstrators in 1977.
After spending years panhandling and selling art on the streets of Boston, Schneider began busking in 1980, first accompanying herself with an accordion purchased at a Jamaica Plain thrift store and then a Casiotone MT-40 (the first battery-powered keyboard sold in America) which Dunsany souped up by running it through a phase shifter. Adding echo to her voice, a tip box bedecked with lights, and a winged helmet topped with a blinking red ball completed her image, which fit perfectly with the spacy songs she covered. Her otherworldly versions of "Ghost Riders in the Sky," Somewhere Over the Rainbow," "Fly Me to the Moon," and
Peter Schilling
's "Major Tom" captured the imagination of passersby, earning her the name the Space Lady and as much as $80 a day.
Schneider and her family eventually returned to San Francisco, where her distinctive style was an even bigger hit than it was in Boston. In 1990, she self-released The Space Lady: Recorded Live in San Francisco, a cassette that featured her pop covers as well as originals by Dunsany, including "Synthesize Me," which became the Space Lady's signature song.
Schneider continued busking until 2000, retiring from music when her marriage to Dunsany ended. She returned to Colorado to care for her parents and work as a nurse, unaware that her music was earning wider attention. Her version of
the Electric Prunes
' "(I Had) Too Much to Dream" appeared on Songs in the Key of Z: The Curious World of Outsider Music, Vol. 2, a collection inspired by the oddness surrounding Y2K and compiled by music historian Irwin Chusid. Word of mouth spread during the 2000s as articles were written about her; as a thank-you to her fans, in 2004 she released the Street Level Superstar EP via the online music archive Comfort Stand. However, she didn't return to being the Space Lady in earnest until after her marriage to singer/songwriter Eric Schneider in 2009. Impressed by the amount of fan correspondence she received, he encouraged her to begin performing again. She played a handful of U.S. dates in 2012, including one at the alleged UFO crash site in Roswell, New Mexico. The following year, London's
Night School Records
released The Space Lady's Greatest Hits, a selection of songs from her cassette, and Schneider embarked on her first world tour in 2014. The psych-garage band
Burnt Ones
convinced the Space Lady to split an album with them, and the results -- which featured a new original Space Lady song -- were released by Castle Face in October 2015. ~ Heather Phares
full bio
Selected Discography
Similar Artists
Don't have a Pandora account? Sign up
Already have a Pandora account? Log In