Free personalized radio that
plays the music you love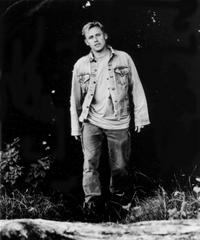 People who also like this
Spear of Destiny was formed by Kirk Brandon and Stan Stammers from the wreckage of
Theatre of Hate
, and named, with characteristic grandeur, for the weapon with which the Roman centurion Longinus pierced the body of the crucified Christ. Much of the group's debut album was already in place before Lasette Ames and Chris Bell joined; released on the band's own Burning Rome label, The Grapes of Wrath echoed
Theatre of Hate
's final demos with astonishing precision.
This original quartet did not survive for long. The album had barely hit the street when Ames and Bell quit, the latter citing both personal and religious reasons (he subsequently resurfaced in
Gene Loves Jezebel
).
Theatre of Hate
's Nigel Preston, fresh from a stint with Sex Gang Children, and
Diodes
' saxophonist John Lennard were drafted in for live work, but by the time
Spear
began work on their second album, 1984's One Eyed Jacks, both had been replaced, by former Tom Robinson Band/
Stiff Little Fingers
drummer Dolphin Taylor, Case sax player Nick Donnelly, Neil Pyzer, and guitarist Alan St Clair from
Howard Devoto
's first post-
Magazine
lineup.
This, the definitive
Spear
aggregation, toured constantly -- three outings during 1984 saw them saturate the U.K. and incite Melody Maker to enthuse, "this time next year, [this band] should be huge... that they aren't already is down to nothing more than... criminal bad luck" -- the bad luck which denied three successive 45s, "Rainmaker," "Prisoner of Love," and "Liberator" even a Top 50 berth. The failure of One Eyed Jacks did much to knock Brandon back, dealing a blow from which he would not recover even after 1985's World Service, a less cohesive, but occasionally superior album just missed the Top Ten. Two further indelible singles, "All My Love" and "Come Back," were barely noticed, and when attempts to record a new album on the Manor Mobile collapsed in bad-tempered disarray, Brandon sacked the entire group. (This material was subsequently released within
Spear
's Psalm series of archive collections).
Spear of Destiny vanished for much of the next two years, and when the band did return, it was with a completely new lineup of Brandon, bassist Chris Bostock, drummer Pete Barnacle, former Adam & the Ants guitarist Marco Pirroni, and keyboardist Volker Janssen. Ironically, it was now that
Spear
finally achieved the destiny which had evaded them for so long. Released on Virgin's 10 subsidiary, Outland spawned Spear of Destiny's biggest hits yet, "Stranger in Our Town," "Never Take Me Alive," "Was That You," and "The Traveller." The group also toured with
U2
, an outing which culminated at Wembley Stadium in June, 1987. But before the group could capitalize on their sudden success, tragedy struck. Literally on the eve of an appearance at the Reading Festival, Brandon was diagnosed with Reiter's Syndrome and ordered to bed. He spent a year flat on his back, barely able to move at a time when Spear of Destiny's commercial stock had never been higher. Outland was their biggest seller yet; their first tour of America was beckoning... and the brightest spot on the horizon was the possibility that Brandon might be able to learn to walk again.
He struggled back into action just in time to see Spear of Destiny fall apart. Their 1988 album, The Price You Pay and single "So in Love with You" foundered in the face of his inability to promote them, and while Brandon bravely tried to relaunch the group in 1990, reuniting with Stan Stammers alongside drummer Bobby Rae Mayhem and guitarist Mark Thwaite, his future drifted even further out of reach when sundry legal problems meant he couldn't even continue using the band's name. Two largely unsatisfying albums document this era, the comeback Sod's Law, released in 1992, and Live at the Lyceum (1993).
Abandoning Britain, Brandon relocated to Philadelphia, where he hooked up with the two American musicians who would become the backbone of his future activities, guitarist John McNutt and drummer Art Smith. Demos recorded by this team, under the tentative name Elephant Daze, would subsequently be issued on the Psalm Three archive collection; they went unreleased at the time, however, and Brandon returned to Britain, bringing his new bandmates with him. For a time, the team toured as
Theatre of Hate
and briefly worked under the unlikely name of 10:51 releasing the single, "Children of the Damned," and the album Stone in the Rain. Brandon finally took the
Spear
name back for himself in 1998, when he began work on a new album, Religion.
Since that time, both Brandon and Spear of Destiny have worked constantly -- 2003's Morning Star album was followed by Imperial Prototype in 2007, while 2006 brought Tons of Sods, a collection of re-recorded classics hailing from radio sessions that same year. The band's U.K. tour that same year spawned the Reanimation live DVD, while Brandon has also supervised a major reissue campaign, not only restoring the band's most crucial albums to bonus-track-stacked life, but also compiling the essential four-CD Kirk Brandon Anthology box set. ~ Dave Thompson
full bio
Selected Discography
Similar Artists
Don't have a Pandora account? Sign up
Already have a Pandora account? Log In