We created Pandora to put the Music Genome Project directly in your hands
It's a new kind of radio –
stations that play only music you like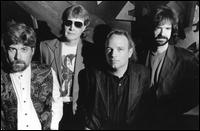 People who also like this
One of the most underrated power pop bands of the '80s, the Spongetones released several albums of effortlessly catchy guitar pop that captured the feel of '60s British Invasion pop with remarkable accuracy and innocent charm. While they never received much critical or commercial attention, their music has aged much better than most power pop of the era (late '70s and early '80s), and among specialists they're highly revered not only for their studio prowess but also for their spirited live shows. They are one of the few bands that gracefully carried on past the "skinny tie" fad into the '90s and beyond -- not as strict revivalists but as something unique. The band, comprised of Steve Stoeckel (vocals, bass), Pat Walters (vocals, guitar), Jamie Hoover (vocals, guitar), and Rob Thorne (drums), began as a covers band in Charlotte, NC in the early '80s. They signed to the Ripete label in 1982 and released their first full-length, Beat Music, the same year, following with the Torn Apart EP in 1984 -- the latter featuring esteemed guests
Don Dixon
,
Mitch Easter
, and
R.E.M.
on handclaps. Stoeckel temporarily left the band, returning in 1991.
By 1987, it seemed the Spongetones wanted to distance themselves from their revivalist reputation, leaving Ripete in favor of the independent Triapore and recording probably their most experimental and most un-Spongetones album, Where-Ever-Land. The album, produced by
Don Dixon
, flirted with garage rock, psychedelia, and the more fashionable jangle pop -- all in all it marked a more muscular and harder-edged approach. The experiment failed for the most part and was short-lived. The band signed to Black Vinyl Records (owned by power pop icons
Shoes
) and found a true home in 1991. There they created, in the mold of their first two releases, possibly their most focused Mersey pastiche,
Oh Yeah!
Textural Drone Thing followed in 1995. In addition to regular band activities, Jamie Hoover released a solo album, Coupons Questions and Comments, for Triapore in 1990, and also formed the Van Delecki's with Bryan Shumate, releasing Letters from the Desk of Count S. Van Delecki on Permanent Press in 1996. After a five-year band silence, the Spongetones finally returned in 2000 with the album
Odd Fellows
. Number 9 followed in 2005. ~ Chris Woodstra, Rovi
full bio
Selected Discography
Similar Artists