We created Pandora to put the Music Genome Project directly in your hands
It's a new kind of radio –
stations that play only music you like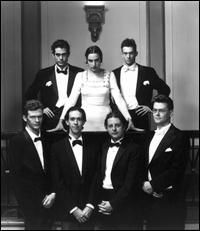 People who also like this
The commercialization of alternative music in the '90s resulted in many strange one-hit wonders, but few were quite as unpredictable as Squirrel Nut Zippers. During a time when hipsters were obsessed with swing music in its relation to
Frank Sinatra
and
Dean Martin
's
Rat Pack
, the Zippers were fascinated with big-band swing and Harlem, creating a tongue-in-cheek salute to '20s and '30s jazz. For younger listeners familiar with the style but not the content of classic hot jazz, the band was good fun, but purists found the group's vaguely campy sense of humor and amateurish technique off-putting. This debate would never have even been a matter of consideration if "Hell," an incessantly catchy single from their 1997 album
Hot
, hadn't been able to sneak through loosened alternative airplay to become a novelty hit. "Hell" became a crossover hit on the strength of a bizarrely theatrical vehicle, and Squirrel Nut Zippers quickly became one of the hottest alternative bands of the first half of the year.
Jim Mathus
(vocals, guitar, trombone) and
Katharine Whalen
(vocals, banjo) formed Squirrel Nut Zippers in 1993 after leaving Chapel Hill, NC, for the nearby small town of Efland. As soon as they settled in Efland, the couple renovated a farmhouse, where they pursued various arts and crafts, and eventually the band fell into shape as
Mathus
and
Whalen
met local citizens like Don Raleigh (bass) and Ken Mosher (guitar, saxophone, vocals) who shared an interest in hot jazz. Before long, Chris Phillips (drums, percussion), Tom Maxwell (vocals, guitar, baritone saxophone, clarinet), and Je Widenhouse (trumpet) were added to the band, which was now named after an old-fashioned candy bar,
Squirrel Nut Zippers
. The group soon made its live debut in Chapel Hill and within a few months had developed a large fan base throughout the South.
By the end of 1994, Squirrel Nut Zippers had signed with Mammoth Records, and they released their debut album,
The Inevitable
, in the spring of 1995. The album didn't make much of an impact, but the group continued to tour. Their second album,
Hot
, was released in January of 1997. Soon after its release, "Hell" became a hit on such influential radio stations as Los Angeles' KROQ, and MTV soon made the video into a buzz clip. By the spring, "Hell" and
Hot
had become hits, as the single was a staple on modern rock stations. Although the Zippers were now successful, they received mixed reviews, with many critics claiming that they were mocking hot jazz, not paying tribute. Nevertheless, the album went gold, and a second single, "Put a Lid on It," was released in the summer.
Perennial Favorites
followed in 1998, as did
Christmas Caravan
. Two years later, the band released
Bedlam Ballroom
, showcasing a cut by late bandmate Stacy Guess. Squirrel Nut Zippers went on an extended hiatus in the early part of the decade and eventually reconvened in 2008 for the live concert album Lost at Sea, which saw release a year later . ~ Stephen Thomas Erlewine, Rovi
full bio
Selected Discography
Similar Artists