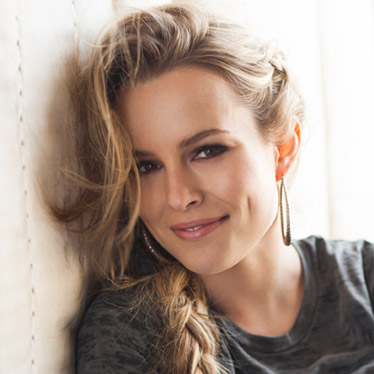 ABOUT BRIDGIT MENDLER
She titled her Hollywood Records debut album "Hello, My Name is...," but the world has had no problem filling in the blank. Between the album's platinum-certified single, "Ready or Not" (which she co-wrote) and her high-profile as star of the Disney Channel original series "Good Luck Charlie," Bridgit Mendler has already shown she's on an unstoppable drive for mega-success. Actress, songwriter, singer, performer, Bridgit truly can do it all. With the release of "Hello My Name Is…" in October 2012, Bridgit was off and running as a recording artist. It debuted Top 30 on the Billboard Top 200 chart and # 1 on iTunes' pop album chart. Bridgit helped things along with major media appearances on "The X-Factor," "Good Morning America," and "Live! with Kelly & Michael."read more She built on the domestic success of "Ready or Not," with an impressive #7 debut on the British singles chart. Bridgit recently performed her hit single "Hurricane" on The Ellen DeGeneres Show. Factor in her debut North American summer tour and the start of Season Four of "Good Luck Charlie," and Bridgit Mendler is officially one of the busiest and brightest young stars in the entertainment firmament.
Bridgit's album revealed a surprisingly mature artist. She co-wrote every song because she wanted to work with A-list writer-producers, and learn from the best. "I've been writing songs a long time, but I felt co-writing would be a good way to get my footing," Bridgit notes. "Working with different producers was great because I was able to articulate what I wanted, and we got a cool variety on the album."
Produced by Emanuel "Eman" Kiriakou and Evan "Kidd" Bogart, "Ready or Not" tells a tale of discovering someone special on one special night, but it also sums up Bridgit's approach to life. "I wanted to write something that was empowering for girls," she says of the track. "I consider myself to have been that girl sitting on the curb waiting for the world to notice."
In addition to Kiriakou and Bogart, producer/writers Bridgit worked with include Priscilla Renea, Dan Pringle & Leah Haywood, Andrew Goldstein, Jai Marlon and Freddy Wexler. But Bridgit's own inerrant feel for fun, funky pop stands front and center in her music.
With its syncopated beats and high-top harmonies, "Hurricane" is Bridgit's hip-hop flavored look at a stormy relationship. "Blonde" is an equally clever meet-cute tale that makes fun of all those stereotypes about blondes (hint: Bridgit's blonde).
Bridgit shows a more reflective side on "Love Will Tell Us" and "5:15," an uptempo ballad about waiting for something good to happen in a relationship, though the clock is ticking loudly. "It's kind of a melancholy song," she says. "It's the idea that people get stuck in various scenarios. A girl is completely fed up with this guy but ends up making excuses for him." And then there's "I Forget to Laugh," a contemporary cautionary tale about getting revenge on the guy that crossed her one time too many.
That's not likely to happen in real life. Turns our Bridgit Mendler is one of those stars who really is as kind and personable as she seems.
Born in Washington, D.C., Bridgit moved to the Northern California town of Mill Valley when she was eight years old. By the time she began middle school, she was deep into artists and bands that ultimately influenced her: from Maroon 5 and the Red Hot Chili Peppers, to Ingrid Michaelson, Feist and Destiny's Child. She also had started acting, first in local productions and, later, in Los Angeles, where the young teen headed to pursue a career. She landed early roles in soap operas and films before Disney discovered her, giving her guest roles in shows like "Jonas" and "Wizards of Waverly Place."
Bridgit's big break came when she was cast as Teddy in the series "Good Luck Charlie," which debuted on the Disney Channel in 2010. Her role as the protective big sister of baby Charlie catapulted Bridgit to stardom in the Disney world and beyond. She juggled work on the series with lead roles in "Lemonade Mouth," guest-starring roles in shows like "House," and voicing the title character in the hit Walt Disney Pictures animated film, "The Secret World of Arrietty."
None of that distracted her from her core love of music. She kept a guitar close by at all times, and really did write a song a day as a way of keeping herself focused. "It wound up being a really fun challenge," she says. "I have funky R&B tendencies when I write by myself. I really love doo-wop and a jazzy swing beat. Rhythm is a big emphasis in my own writing."
This born musician has one overriding goal for her life now, and that's musical success. With her gifts of songwriting and singing, she will certainly reach her goal. In fact, with the immediate success of "Hello My Name Is...," she's already there. "The music really has me in it," she says of her album. "I once was told that listening to a good song is like coming home to a place you've never been. Music has the ability to impact people in such a strong way. It's such an important job, and for me it's the most gratifying thing."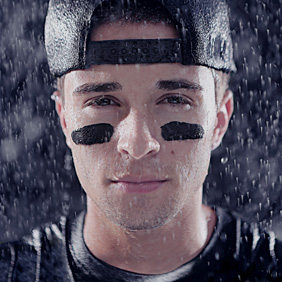 ABOUT JAKE MILLER
Jake Miller, born November 28, 1992, is an American rapper, singer, musician and songwriter from Weston, Florida. He is a multi-talented musician who taught himself to play the drums and guitar at a young age. After putting out a few homemade music videos on YouTube and immediately creating a buzz, Jake attracted the attention of music business insiders who began to guide Jake on his journey. Recently, Jake embarked on his first national headline tourread more, with dates selling out across the country, including two nights at New York City's Highline Ballroom. He recently signed a record deal with eOne Music and is scheduled to release his debut album later in 2013. A social media wiz who stays extremely connected to his growing fan base, Jake Miller currently has over 100,000 followers on Facebook and over 70,000 Twitter followers.
Incredibly, Jake's very first live performance was in March 2011 opening for legendary rapper Snoop Dogg in Pompano Beach, Florida. That performance kicked off what was to be an incredible year for Jake. In the following months, he opened for rapper Mac Miller in Fort Lauderdale, and also won the Samsung & T-Mobile national "Kick it with the Band" competition, which was designed to highlight some of the best music talent on the verge of stardom across the country. As the grand prize winner, Jake was awarded $35,000.00 for use towards his music career and a music video with YouTube sensation Keenan Cahill. Later that year, Jake performed alongside Flo Rida, Sean Kingston and Asher Roth at the "Think Pink Rocks" concert in West Palm Beach, FL, sponsored by Steve Rifkind and SRC Records. In December 2011, Jake shared the bill at the annual Y-100 Jingle Ball concert with Cody Simpson and We the Kings. He rang in the New Year at the Orange Drive Miami Beach Music Festival with Jason Derulo, Cee Lo Green, Ne-Yo, Gym Class Heroes and Cobra Starship also performed.
In 2012, Jake performed on both the Planet Pit Stage and Power 96 Stage at the famed Calle Ocho Festival in Miami, FL in front of an estimated crowd of 200,000+. He also shared a bill with Sammy Adams, Austin Mahone, J Rand and others for a show sponsored by Miami's pop radio station Y-100.A personal highlight for Jake (as he is an avid Miami Heat fan) was when he performed at the AAA arena during the NBA championship finals.
MTV.com exclusively premiered the music video for Jake's single "I'm Alright" at the time of release. Jake went on a Florida radio tour in March, 2012 to promote his single, "What I Wouldn't Give," and at one point, it was the only record near the top 50 on the Hot 100 Chart by a completely independent artist.
Critics have been taking notice. MTV Buzzworthy says "Jake Miller is about to blow up! Jake just released a brand-new video and we're mildly obsessed, to say the least. Jake's rap flow is serious." The Miami Herald recently featured Jake and said, "It's Miller time! Get used to hearing the name Jake Miller. …At just 19, the singer-songwriter is a Web sensation." J-14 Magazine, Teen.com and Seventeen.com all recently featured Jake while YoungHollywood.com says "South Floridian Teen Jake Miller (is) breaking through to the Music Mainstream."
Jake is releasing his new EP, "The Road Less Traveled," on iTunes on April 9, 2013.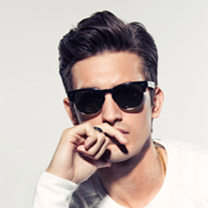 ABOUT ASHER MONROE
Born in Arlington, Virginia in 1988, Asher began his professional career at seven years old. For his first big break, he landed the role of teacup Chip in the national tour of the Broadway production "Beauty and the Beast." He continued booking shows to help support his family and moveread more to New York City. There, he attended the Professional Performing Arts School from 2000 to 2002, and ultimately settled in Los Angeles. After starring in multiple roles on TV and film, including "Parenthood" and MGM's remake of "Fame", Monroe signed on as the flagship artist to the new music label D Empire Entertainment in 2011.
When Monroe's first solo music video for "Like I Do" hit YouTube, it created a fan frenzy... racking up more than 1.6 million views, half of them within the first 24 hours alone. His next three releases "Hello Baby", "Every Night" and "Here With You", passed the million view mark just days after each video debut. He quickly garnered international radio coverage as well as extensive features on Huffington Post, Forbes, Just Jared, MTV, CBS, and the December 2012 cover of Billboard Magazine. After embarking on a 20-city co-headlining tour across the US, Monroe was asked to perform at KIIS FM's Wango Tango, Logo's New Next Now Awards, and MTV's OMA Awards amongst other nationally aired engagements.
In early 2013, Monroe headed back into the studio to co-write/produce his first official solo album. Album collaborators include multi-Grammy winning producers and recording artists Ryan Tedder, Chris Brown, Sean Kingston and Senior VP of A&R for Def Jam, Bu Thiam (A&R for Jay-Z and Kanye West's Watch The Throne and Rihanna's Talk That Talk).
Monroe's latest music video "Hush Hush" was shot and directed in Bosnia by Academy Award winning director for best foreign film, Danis Tanovic. Co-written/produced by Monroe, the recent premiere of "Hush Hush" on MTV Buzzworthy/Hits propelled his title as one of MTV's Top 10 Artists to Watch and marks the beginning of his album release campaign/tour set for later this year.
Monroe's album is shaping up to be a stylistically varied collection of beat-driven songs with irresistible pop melodies, big choruses, and heartfelt lyrics that anyone who has ever loved and lost can relate to. Based in Los Angeles, Asher is currently splitting time between writing, recording, visiting radio stations, and prepping for his upcoming shows.