Free personalized radio that
plays the music you love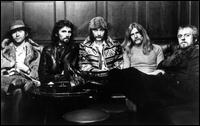 People who also like this
A critic once called Steve Gibbons "the English
Bob Seger
," which, as descriptions go, could have been much worse, but is really based on superficialities. Both guys are basically unpretentious, blue-collar rockers who achieved fame (
Seger
much more so than Gibbons) as veterans. But Gibbons' solo career -- which is the guise in which he is best known -- wasn't long enough to witness the kind of decline and formulaic emptiness that marked
Seger
's career after 1980. Still, for a career that lasted for five albums, Gibbons didn't do too badly; three of them are good, and one (Down in the Bunker) is great.
Gibbons' career actually dates back to the very end of the '50s. A rock & roller with a special love of
Elvis Presley
's work, Gibbons was working as a plumber's apprentice in his native Birmingham, England, when he made the leap to a professional career, replacing Colin Smith as lead singer in the Dominettes, a local rock & roll band. He remained with the Dominettes -- who were renamed the Uglys three years later -- for the next eight years, as they went through numerous lineup changes and their sound evolved from rock & roll to R&B to psychedelia. Gibbons himself became heavily influenced by the music and songs of
Bob Dylan
during the mid-'60s, which manifested itself for years after (and, indeed, into the '90s), starting with the Uglys' single "Wake Up My Mind." The group experienced many false-starts and thwarted efforts at chart success, and by 1968 Gibbons was the only original member of the Uglys still in the lineup. And the band essentially dissolved in a disastrous series of behind-the-scenes machinations of manager Tony Secunda, and Gibbons was among those left to find a new gig.
He initially joined former
Move
bassist Trevor Burton, ex-
Moody Blues
guitarist/singer
Denny Laine
, and his former Uglys bandmate Keith Smart in an outfit called Balls. by April of that year they had formed a new group called Balls, which didn't last long but did leave an album behind. Gibbons then joined the Birmingham band
the Idle Race
, which had lost
Jeff Lynne
to
the Move
not too long before. That configuration lasted for a few months, before it renamed itself the Steve Gibbons Band.
It was in this guise that Gibbons finally began his rise to stardom, at least in England. Gibbons fancied himself a modern-day rock & roll outlaw: dark features, surly countenance, mean disposition. His songs were essentially
Chuck Berry
updates (in some cases, simply
Chuck Berry
covers) about thugs, dealers, and good lovin' gone bad. Tight with
Who
bassist
John Entwistle
, Gibbons was able to land a contract with
the Who
's American label, MCA, and share the same management company. The trouble was that being the English
Bob Seger
meant little, if anything, to most American rock fans (who preferred their own
Seger
by a wide margin), and Gibbons' career never amounted to much in the U.S.; he was fairly popular in England, though. Following Down in the Bunker, Gibbons released two early-'80s records for RCA, and On the Loose for Magnum Force in 1986. The 1998
Bob Dylan
tribute The Dylan Project, recorded with members of
Fairport Convention
, marked a comeback of sorts for Gibbons. He has continued to tour with the Steve Gibbons Band into the 21st century and participated in various Birmingham rock & roll showcases with fellow Brummies Trevor Burton, Bev Bevan, and Danny King. ~ John Dougan & Bruce Eder, Rovi
full bio
Selected Discography
Similar Artists
Don't have a Pandora account? Sign up
Already have a Pandora account? Log In