Free personalized radio that
plays the music you love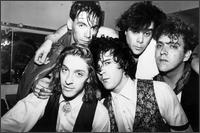 People who also like this
While
the Replacements
,
Hüsker Dü
, and
Soul Asylum
were the Minneapolis bands that took the city's underground rock to international attention, the Suburbs were the Twin Cities' biggest local act of the 1980s, packing the biggest clubs in town with a smart, challenging, and darkly witty combination of punk energy and snark, new wave polish, tough guitars, and hooky dance rhythms. The Suburbs were formed in 1977 by vocalist and keyboardist Chan Poling and vocalist and lead guitarist Blaine John ("Beej") Chaney; the two had been close friends since their high school days and had both traveled to California to attend art school in 1974. Poling and Chaney were exposed to the nascent Los Angeles punk scene before returning to Minneapolis, where Poling discovered his pal Chris Osgood had formed the Suicide Commandos, generally cited as the first proper punk outfit in the Twin Cities. Intrigued by the budding music scene in their hometown, Poling and Chaney talked with Osgood about their desire to start a band; Osgood in turn introduced them to guitarist Bruce Allen, bassist Michael Halliday, and drummer Hugo Klaers, and the Suburbs were born. With few clubs in town booking original rock music, the Suburbs started out playing parties with other local acts, until Jay's Longhorn Bar, a jazz venue, took a chance on hosting the band. The Longhorn was soon Minneapolis' home for punk and new wave sounds, and the Suburbs attracted the attention of local indie label Twin/Tone Records. In the spring of 1978, the Suburbs released their first record via Twin/Tone, a 7" EP featuring nine songs, dominated by a punk attack and an arty melodic edge. A single, "World War III" b/w "Change Agent," followed in June 1979, and in January 1980, the Suburbs released their first full-length album, In Combo. By this time, the band's sound was growing more sophisticated, and they'd become a major club draw in the Midwest. In Combo sold over 13,000 copies, an impressive feat for an independent album at the time, and 1981's Credit in Heaven was an even more ambitious project, a two-LP set that veered from pulsing dance rock to outre ballads to noisy jazz-influenced art rock. Credit from Heaven sold 15,000 copies and spun off a 12" single, "Music for Boys," that hit the national dance charts. The Suburbs teamed with producer Steve Greenberg (who scored a massive hit with the song "Funkytown" as part of his group
Lipps Inc.
) for the EP Dream Hog, released in late 1982. It included another dance hit, "Waiting," and with the Suburbs regularly selling out multiple nights at First Avenue in Minneapolis and drawing impressive crowds elsewhere, the group landed a deal with Mercury Records, who obtained the rights to the Suburbs' back catalog and promptly reissued Dream Hog. In 1983, the band released their first major-label album, Love Is the Law, again produced by Steve Greenberg, but while the title tune became a big hit in Minneapolis and received scattered airplay elsewhere, Mercury were uncertain how to promote the band, and despite strong reviews and extensive touring, the album wasn't the breakout hit the band had hoped for. The Suburbs left Mercury Records, and struck a deal with A&M; their 1986 album, simply called Suburbs, was produced by Robert Brent, better known as
Bobby Z
, drummer with Prince & the Revolution. While it was the group's most commercial effort to date, it didn't click with record buyers, and in 1987, the Suburbs, frustrated by their experience with the major labels, released an independent single, "Little Man's Gonna Fall" b/w "Don't Do Me Any Favors," shortly before they called it a day with a series of farewell shows at First Avenue.
In 1992, Twin/Tone released a collection of the group's most popular material, Ladies and Gentlemen, The Suburbs Have Left the Building, and the following year, the group played a few reunion concerts at First Avenue. The Suburbs began playing shows every year or so over the next few years, and Chaney formed his own record label, Beejtar Records, which reissued In Combo, Credit in Heaven, and Love Is the Law in 2002, as well as the "best-of" collection Chemistry Set: Songs of the Suburbs 1977-1987 in 2003. In late 2009, the group mourned the loss of guitarist Bruce Allen, who also worked as a graphic designer and created the group's logo. Not long after Allen's death, bassist Michael Halliday retired from the Suburbs, largely because of his struggle with arthritis. The rest of the band soldiered on, playing occasional shows with new members Steve Brantseg on guitar and Steve Price on bass, marking the first changes in the band's lineup since they began. Chan Poling divided his time between occasional Suburbs shows and gigs with his jazz-influenced combo
the New Standards
, but in 2011, after the death of his wife, broadcaster and political scion Eleanor Mondale, he was eager to make a rock & roll record again. As Poling told a reporter, "Always in the back of my mind I knew I had another rock record in me. Who would I get to play? Then the more I thought: what's the best rock band that I know? I already have it." Rather than deal with a record company, the Suburbs opted to finance and release the new album themselves, and after raising over $70,000 in a Kickstarter campaign, the group's long-awaited studio comeback, Si Sauvage, arrived in the fall of 2013. It was released as the band was enjoying a new surge of popularity, after marriage equality activists (with the Suburbs' blessings) used the song "Love Is the Law" as the theme song for their successful campaign to legalize same-sex marriage in Minneapolis. ~ Mark Deming, Rovi
full bio
Selected Discography
Similar Artists
Don't have a Pandora account? Sign up
Already have a Pandora account? Log In