We created Pandora to put the Music Genome Project directly in your hands
It's a new kind of radio –
stations that play only music you like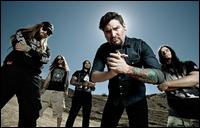 People who also like this
Riverside, California's Suicide Silence formed in 2002. A quintet, the band specialized in that 21st century metal phenomenon known as deathcore, and was signed to international mega metal label Century Media. The band managed to get things rolling quickly, save for a few lineup changes, and went from formation to deal in a mere two years. In the meantime, Suicide Silence issued one pre-deal EP -- the simply titled
Suicide Silence
-- which saw the light of day on indie labels At the Deep End and SOS Records.
The band's Century Media debut album,
The Cleansing
, was released in September of 2007, and was produced by John Travis. The album was a bit of a mover and shaker in the genre, breaking through to the Top 100 on the Billboard charts, and became one of the label's biggest-ever sellers. Following the release of the album, the band toured steadily in the U.S. and Europe with
Parkway Drive
and
Bury Your Dead
. Members Mitch Lucker (vocals), Chris Garza (guitar), Mark Heylmun (guitar), Mike Bodkins (bass, but later replaced by Dan Kenny), and Alex Lopez (drums) had more reason to celebrate in 2008, as the band was added to the Mayhem metal festival, which hit stages that summer.
No Time to Bleed
, released in 2009, found the band in the Top 40 of the album charts for the first time, accompanied by positive reviews. Third album The Black Crown switched from anti-religious topics to personal themes from lyricist Mitch Lucker, and it became the highest charting album of their career. Lucker, however, died in November 2012 from injuries sustained in a motorcycle accident. A memorial tribute show later that year featured Suicide Silence backed by different vocalists for each song, and by the fall of 2013, the band had found their new lead vocalist, Hernan "Eddie" Hermida from
All Shall Perish
. The Lucker memorial show was released early in 2014 as Ending Is the Beginning: The Mitch Lucker Memorial Show 12.21.12. ~ Chris True, Rovi
full bio
Selected Discography
Similar Artists