We created Pandora to put the Music Genome Project directly in your hands
It's a new kind of radio –
stations that play only music you like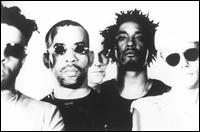 People who also like this
A collective stretching from the early days of the hip-hop label Sugar Hill into the industrial music of the 1990s, Tackhead produced at least half-a-dozen albums under a variety of nominal heads --
Keith LeBlanc
,
Gary Clail
, and finally Tackhead. The group came together in the early '80s as the Sugar Hill house band, with guitarist
Skip McDonald
, bassist Doug Wimbish, and drummer
Keith LeBlanc
. (The trio had performed on the three best early hip-hop tunes,
the Sugarhill Gang's
"The Rapper" and
Grandmaster Flash's
tracks "The Message" and "White Lines.") When
McDonald
, Wimbish, and
LeBlanc
met British dub producer
Adrian Sherwood
(of the On-U Sound System), they moved to England and in 1986 recorded Major Malfunction, a street-wise funk-rock LP with doses of
Sherwood's
studio trickery informing the whole. Since
LeBlanc
had a bit of name recognition due to his 1983 dance hit "No Sell Out," the album was released under his name. Another Brit, vocalist
Gary Clail
, had joined the Tackhead conglomeration by that time, and it was his name -- or rather Gary Clail's Tackhead Sound System -- that graced the cover of the 1987 album Tackhead Tape Time, on Nettwerk Records. After another collective recording on
Keith LeBlanc's
1989 album
Stranger than Fiction
, the Tackhead team finally coalesced as a stable group on
Friendly as a Hand Grenade
. The album, also released in 1989, was the first recorded as Tackhead, and the addition of a standard vocalist (
Bernard Fowler
) made the group that much more stable, in image if not in sound.
Strange Things
followed in 1990, with contributions from Melle Mel and
Mick Jagger
. The album appeared to be a conscious attempt at mainstream rock success (not unlike that of
Living Colour
), and failed miserably. Though they released no more new Tackhead material,
LeBlanc
, Wimbish and
McDonald
continued to play for On-U Sound System projects, such as
Gary Clail's
1991 album
The Emotional Hooligan
. ~ John Bush, Rovi
full bio
Selected Discography
Similar Artists