We created Pandora to put the Music Genome Project directly in your hands
It's a new kind of radio –
stations that play only music you like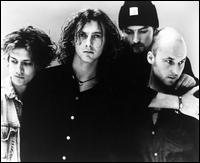 People who also like this
When the British band This Picture debuted on U.S. modern rock stations in 1991 with "Naked Rain," request lines smoked with listeners asking for the latest song from
U2
. Like Tuesday Blue and Cactus World News, This Picture aimed for
U2
's epic sound. However,
U2
released
Achtung Baby
just when "Naked Rain" was climbing the alternative charts, and it destroyed the need for clones of the Irish superstars. Nevertheless, the poetic lyrics and driving hooks of "Naked Rain" gave modern rock radio a final gust of '80s new wave-inspired guitar pop right before
Nirvana
and the Seattle brigade made everything loud and fuzzy. Featuring Symon Bye (vocals), Robert Forrester (guitar), Austen Rowley (bass), and Duncan Forrester (drums), This Picture formed in Bath, England. The group's first album,
A Violent Impression
, appeared in 1991. Although "Naked Rain" was a hit on alternative stations, it didn't dent the mainstream charts. By the time another track, the exhilarating "Breathe Deeply Now," was being promoted to modern rock radio, the format was too steeped in grunge to care.
A Violent Impression
ended up in the cutout bins and This Picture was dropped from play lists once programmers started targeting younger listeners in the early '90s. The band recorded another full-length,
City of Sin
, in 1994 and then vanished from the scene. ~ Michael Sutton, Rovi
full bio
Similar Artists