Free personalized radio that
plays the music you love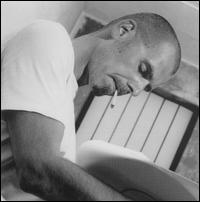 People who also like this
Alongside
Mike Ink
, the
Basic Channel
collective and
Pole
, Thomas Brinkmann is one of the leaders in the ongoing German-born study of isolationist dub-inspired techno. Though he's been famed for productions on his own Max Ernst label, Brinkmann gained a name in the experimental and techno community for his full-length remixes (or as he terms them, "variations") of material by
Richie Hawtin
and
Mike Ink
. The variations were made possible by playback of the original records on a turntable of Brinkmann's own design, which included two tone arms with separate outputs for left and right channels.
Brinkmann had in fact been experimenting with carved-groove records since the 1980s. He studied art at the Düsseldorf Academy but was reportedly expelled for his philosophies. Influenced by
Ryuichi Sakamoto
,
Steve Reich
,
Panasonic
, and Dan Bell, it was
Mike Ink
's Studio 1 singles series that inspired him to begin recording seriously. Brinkmann modified an existing turntable by adding another tone arm (one for each channel of the output, left and right) and slowed down the material to record his own variations. When
Ink
heard them, he released two EPs of the material on his Profan label (later collected on one CD).
Brinkmann debuted his own productions in 1998 with the founding of the Max Ernst label, which released several singles of sharply defined minimalist dub-techno in keeping with the work of Berlin's
Basic Channel
collective and
BC
-associate Stefan Betke (aka
Pole
). Brinkmann also launched two sub-labels -- Max (with men's names for track titles) and Ernst (with female names, and only consisting of tracks produced by Brinkmann) -- and released more experimental work on Supposé and Noton under the alias Ester Brinkmann, named after his sister. Brinkmann also reworked the dozen 12" singles originally released during 1996 by
Plastikman
's
Richie Hawtin
in a series called Concept 1. After traveling from Cologne to Hawtin's base in Canada, Brinkmann thrilled
Hawtin
with the results and by early 1998, a CD of Brinkmann's Concept 1 variations was released on Hawtin's M_nus label as Concept 1: 96:VR.
In 1999, Brinkmann began using the moniker Soul Center to produce house tracks heavily influenced by funk, soul, and disco. The project's first album appeared on Brinkmann's own W.v.B Enterprises, with its sequel arriving in 2000. Brinkmann continued releasing experimental work under his own name (as well as his sister's), with turntable-created full-length Klick and Rosa (a compilation of tracks from his 12" singles) both appearing on Max Ernst in 2000. His more accessible Soul Center work had received more acclaim than anything else he'd produced, however, and the project signed to NovaMute, who released its third album in 2001. Following several years' worth of additional 12" singles, a 2002 compilation CD titled Row, and a limited collaboration with Markus Nikolai and Dominique Petitgrand, Brinkmann released Tokyo + 1 (a solo album based on field recordings from the Japanese city) in April of 2004. Traum Schallplatten also released Brinkmann's mix CD Tour de Traum that month.
Brinkmann's experimental techno sound took a turn towards accessibility with his next release, 2005's Lucky Hands. Brinkmann sang on one track, and several other songs featured vocals by Tusia Beridze (TBA), including a cover of Morrissey's "The More You Ignore Me, The Closer I Get." He revisited his turntable experiments with 2006's Klick Revolution, but he also released a 12" single containing his remixes of the band Suicide. He further explored his '70s/'80s post-punk influences on 2008 full-length When Horses Die..., a downtempo, lyric-driven effort which featured a song written by Tuxedomoon's Winston Tong.
After releasing techno 12"s Isch and Walk With Me, Brinkmann released fourth Soul Center album General Eclectics on Shitkatapult in 2010. He then collaborated with Australian experimental artist Oren Ambarchi on an extended drone piece titled The Mortimer Trap, which was issued on Ambarchi's Black Truffle Records in 2012. Following two techno EPs on Third Ear Recordings (Guy Martin and When the Music...), Brinkmann moved to Peter Rehberg's Editions Mego for the release of 2015's What You Hear (Is What You Hear), an intense, quasi-rhythmic noise excursion. The label also released Brinkmann's 2016 recording A 1000 Keys, a dissonant album of piano compositions dedicated to Conlon Nancarrow. Also that year, Finnish label Frozen Reeds issued Brinkmann's double CD A Certain Degree of Stasis, which was accompanied by artwork from German conceptual artist Agnes Lux. ~ John Bush & Paul Simpson
full bio
Selected Discography
Similar Artists
Don't have a Pandora account? Sign up
Already have a Pandora account? Log In