Free personalized radio that
plays the music you love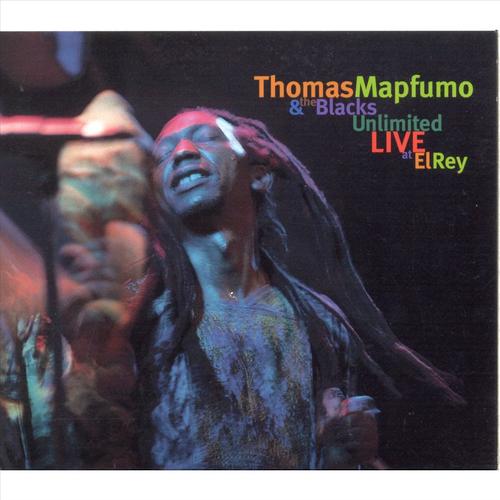 People who also like this
Thomas Mapfumo & The Blacks Unlimited
Backed by his band, Blacks Unlimited,
Thomas Mapfumo
has been at the cutting edge of the political struggle in his native Zimbabwe for over 20 years, even as he's become a major figure on the world music scene. Born in 1945 in the small town of Marondera, in the country that was then the British colony of Rhodesia, Mapfumo attended a colonial school and heard Western pop on the radio. Particularly struck by
Elvis
, he performed
Presley
's "A Mess of Blues" in a talent show, backed, perhaps surprisingly, by a white band. That brief appearance was enough to hook him on performing and he joined the Cosmic Four Dots, playing "copyright" (i.e. cover) tunes. However, he did recognize he had his own mark to make and began writing music, incorporating the rhythms of the mbira, or thumb piano, played on guitar, and singing in the local Shona language. In 1973, he became part of the Hallelujah Chicken Run Band and his new music got its first public airing -- although it didn't last too long in this incarnation. A year later the other musicians were replaced by the Acid Band, whom Mapfumo had heard in a bar, and he recorded his first singles. By 1976, he'd shaken up the band's musicians, bringing in fresh blood, and in 1978 he gave them a more politically charged name, Blacks Unlimited. And the music, too, got a name -- Chimurenga ("Struggle"). The lyrics were direct and political on Mapfumo's first album, Ho Koyo, criticizing the government, and that was enough to get Mapfumo jailed for three months at a time when the nation was striving for independence and black guerilla groups operated and met in the bush -- with Mapfumo's music as their soundtrack.
He spent three months in a prison camp in 1979, "then they decided to let me go," he recalled, "because they found no case with me." That didn't stop the authorities demanding that he play a concert, a way of showing they'd tamed the man who was now called the Lion of Zimbabwe. It backfired, as Mapfumo played his most incendiary material, explaining innocently that he'd had no chance to write new songs, since he'd been in jail. In 1980, the new country of Zimbabwe was born, under the leadership of Robert Mugabe, a freedom fighter and friend of Mapfumo. Artists came to the capital, Harare, to play, including
Bob Marley
, with whom Mapfumo shared a stage -- and dreadlocks, which he still wears, as a symbol of his heritage.
Mapfumo celebrated the start of the new country with Gwindinge Rine Shumba, the first of several albums during the '80s, refining and honing his sound. By the middle of the decade, instead of having guitars imitate the thumb piano sound, he finally added three mbiras, having waited, he explained, until he could "find the right people who could work well with modern instruments." Over the course of his career, Mapfumo's outspokenness and music had made him a hero to the country's people, one who could do no wrong. But by 1989, politicians began seeing him differently, after he released the single "Corruption," which pointed fingers at Zimbabwe's leaders, and was immediately banned. But Mapfumo wasn't about to be silenced. The following year, his Chamunorwa album had barbs specifically for Mugabe and he criticized the leader very heavily in the overseas press. But while he spent more time away from home, he became better known on the international circuit and by the middle of the '90s was a major player on the world music circuit, but still able to sell out shows at home whenever he chooses to play there. In the latter part of the '90s, avoiding the problems with major labels, Mapfumo signed with New Mexico-based label, Anonym Records, which continues to release his music. In 1998, he undertook an acoustic tour, then returned with the full band for the critically acclaimed Chimurenga Explosion. 2001 brought a new direction, a collaboration with avant-garde jazz trumpeter Wadada Leo Smith and his band, N'Da Kulture, on Dreams and Secrets. ~ Chris Nickson
full bio
Selected Discography
Similar Artists
Don't have a Pandora account? Sign up
Already have a Pandora account? Log In