We created Pandora to put the Music Genome Project directly in your hands
It's a new kind of radio –
stations that play only music you like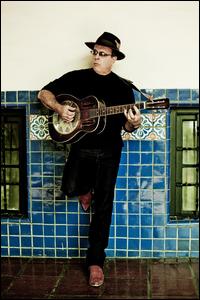 People who also like this
Americana singer/songwriter Tom Russell was born in Los Angeles in 1950. Raised on the cowboy music of the American West, he grew up to be a talented songwriter, and began issuing albums under his own name in the early '70s. However, Russell's material was also recorded by such luminaries as
Johnny Cash
,
Guy Clark
,
Dave Alvin
,
Doug Sahm
, and
k.d. lang
, to name only a few. While much of Russell's work mined the country tradition, he was also known to flavor his work with Tex-Mex, folk, and the cowboy music of his youth. After an acclaimed career spanning two decades, Russell found another gear with 1999's Man from God Knows Where. A concept album eight years in the making, the LP presented a song cycle inspired not only by America's pioneers, but by Russell's own immigrant ancestors.
Borderland
, a set inspired by Russell's newfound home in the Juarez border region of Texas, followed in 2001. Modern Art appeared in April 2003 and
Hotwalker
-- a conceptual work inspired by Russell's encounters with author Charles Bukowski -- followed in 2005. A year later, Russell released
Love and Fear
, an album focusing on what he called "the ragged outback of love."
Wounded Heart of America
, a compilation of Russell classics performed by everyone from
Johnny Cash
and
Iris DeMent
to Tom himself, arrived in 2007. In 2009, Russell re-emerged on Shout Factory with
Blood and Candle Smoke
, recorded at Tucson's Wave Audio with owner Craig Schumacher co-producing. Players include songwriter
Gretchen Peters
on backing and duet vocals, and members of
Calexico
, among others. Following the critical and commercial success of
Blood and Candle Smoke
, Russell toured relentlessly. Included in his road escapades was another train tour, with songwriters
Dave Alvin
,
Steve Young
, and Thad Beckman. Russell went to work on another album in 2010; he recorded in studios in Texas, Los Angeles, Tuscon, and Nashville with co-producer Barry Walsh. The end result, Mesabi, once more included appearances by
Calexico
, as well as
Van Dyke Parks
,
Viktor Krauss
,
Will Kimbrough
, and
Gretchen Peters
. The album was advanced by a pre-release download single; a striking cover of
Bob Dylan
's "A Hard Rain's Gonna Fall," featuring
Lucinda Williams
and
Calexico
. The album's final cut, "Road to Nowhere," was used as the title cut of the for director Monte Hellman's film of the same name. Mesabi was released on September 6, 2011~ Johnny Loftus & Thom Jurek, Rovi
full bio
Selected Discography
Similar Artists