We created Pandora to put the Music Genome Project directly in your hands
It's a new kind of radio –
stations that play only music you like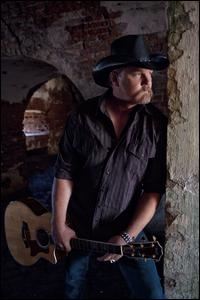 People who also like this
Trace Adkins helped keep country's traditionalist flame burning during the crossover-happy late '90s, mixing classic honky tonk with elements of gospel, blues, and rock & roll. Adkins was born in the small Louisiana town of Sarepta in 1962 and took up the guitar at an early age; he went on to study music at Louisiana Tech, where he also played football and worked on an offshore oil rig after graduating. His finger was severed in an accident while on the job, and once several years had passed, he returned to music with the gospel quartet the New Commitments. In the early '90s he began to pursue a solo career, playing honky tonk bars and clubs as often as he could, and honing a powerful, wide-ranging baritone voice in the process. He spent several years on the circuit and finally moved to Nashville to try his luck in the industry; he was quickly signed to Capitol by Scott Hendricks, who had produced the likes of
Brooks & Dunn
,
Faith Hill
, and
Alan Jackson
.
Adkins issued his debut album,
Dreamin' Out Loud
, in 1996, and it established him as a rising star. The lead single, "Every Light in the House," went to number three; "I Left Something Turned on at Home" hit number two; and "(This Ain't) No Thinkin' Thing" went all the way to number one. His 1997 follow-up album,
Big Time
, spawned another Top Five hit in "The Rest of Mine," and "Lonely Won't Leave Me Alone" just missed the Top Ten. However, it wasn't quite the commercial powerhouse of
Dreamin' Out Loud
; neither was its follow-up, 1999's
More
, which featured just one Top Ten single in the title track. Nonetheless, all three albums made the country Top Ten.
Released in 2001,
Chrome
brought Adkins into the Top Five of the country album charts for the first time, as the Top Ten lead single "I'm Tryin'" proved to be his biggest hit since "The Rest of Mine." In July of that year, Adkins was arrested for drunk driving and later pled guilty. The title track of
Chrome
belatedly climbed into the Top Ten in early 2003. Capitol released
Greatest Hits Collection, Vol. 1
in July of 2003 and its companion DVD, Video Hits, in February 2004 with Adkins' fifth studio album, the December 2003 release
Comin' on Strong
, sandwiched in between. In 2005, Adkins had a major hit with "Honky Tonk Badonkadonk" from his album
Songs About Me
. The album
Dangerous Man
was released a year later. Live in Concert appeared in 2007 as part of the Big Band Concert CD series. X (Ten) was issued in 2008. After the album was released, Adkins left Capitol and signed with
Toby Keith
's Show Dog imprint distributed by Universal. In May of 2010 he debuted his first single for the label, "This Ain't No Love Song." The album Cowboy's Back in Town was released in August of that year. Adkins saw some chart action from both the album and single; he supported them with an extended tour. While flying to a concert in Alaska on June 4, 2011, Adkins' home in Brentwood, Tennessee caught fire and burned to the ground. Though his wife, daughters, and a babysitter were at home during the catastrophe, no one was hurt. The title track of his 2011 album, Proud to Be Here, was written by Chris Wallin, Aaron Barker, and Ira Dean with Adkins in mind. Their album was preceeded by the Top 20 single "Gone Fishin'." ~ Steve Huey, Rovi
full bio
Selected Discography
Similar Artists