Free personalized radio that
plays the music you love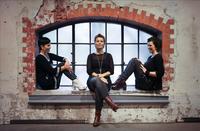 People who also like this
The Trio Mediaeval's uncommonly clear and focused presence is anchored by the combination of three perfectly aligned voices that form what could be described as an ethereal tonal prism. Equally adept at interpreting music both ancient and modern, this celebrated threesome was founded in Oslo in 1997 by Linn Andrea Fuglseth of Sandefjord, Norway, with Anna Maria Friman of Goteborg, Sweden and schoolteacher Torunn Ostrem Ossum of Namsos, Norway who sang with Fuglseth in the choir Grex Vocalis under the direction of Carl Hogset. Of the three voices, Ostrem Ossum became readily recognizable as the one who "holds the ground" by singing in the mezzo soprano range. Settling into a practice regimen worthy of professionals, the three women made the decision to hone their craft by enrolling at a summer school operated by the internationally acclaimed
Hilliard Ensemble
. Bolstered by that group's guidance and enthusiasm, the Trio set out to define their own path. Their subsequent skill at mingling works from the early and contemporary repertoires may be traced to the direct influence of
Hilliard
member
John Potter
as well as that of Linda Hirst, a cardinal member of
the Swingle Singers
who in 1983 recorded the feminist paean "Women of the World" with Scottish poet
Ivor Cutler
. The influence of Hirst is intriguing, as that artist has sung Monteverdi, specialized in
Schoenberg
, and demonstrated the kind of versatility necessary for the realization of works by Luciano Berio, Giacinto Scelsi, and György Ligeti. Fuglseth's musical studies included Baroque interpretation and personal instruction from lyric soprano
Emma Kirkby
. Ostrem Ossum received voice training from Svein Bjørkøy at Ronningen County College in Oslo. Friman, whose academic research centered upon the modern performance of mediaeval music by women, studied with Thorbjørn Lindhjem and lyric soprano Barbara Bonney. The Trio's stated aim has always been to revisit and reevaluate the historically undervalued and largely invisible female contribution to mediaeval musical traditions while actively pursuing works by contemporary composers from all over the world. To some extent, their immediate predecessors were the
Anonymous 4
, a comparably skilled female quartet specializing in Mediaeval and Renaissance repertoire, whose debut recording, An English Ladymass, appeared in 1992 on the Harmonia Mundi label. Whereas the
Anonymous 4
discography constitutes a breathtaking library of early musical traditions including works by Hildegard von Bingen, the Trio's approach is diversely creative to a greater degree than has usually been encountered among interpreters of early music, precisely because they take their art so much further than conventional historically informed performance.
Everything about the Trio Mediaeval made them ideally suited for inclusion in the ECM catalog, and it was
John Potter
who introduced them to that label's founder and producer Manfred Eicher. Their first album, Words of the Angel, was recorded in Gonningen, 65 km south of Stuttgart Germany in December 1999, and attained the Billboard Classical list's Top Ten following its release in 2001. Richly endowed with 14th century polyphony, the album draws upon a wide selection of anonymous works from various locales in England, Belgium's oldest city Tournai, and Cortona, which lies between Sienna and Perugia in Central Italy. The collection's one modern work, title track "Words of the Angel" was written by British composer
Ivan Moody
. The cover art for this album, a still from Jean Luc Godard's epic Histoire(s) du Cinema is a potential source of confusion as the title of the Trio's second release echoes the first album cover's inscription "Soir, dit-elle," which was one of Godard's famous textual overlays. (In 1999, ECM had released the soundtrack from Histoire(s) du Cinema as a five-CD set). Recorded in April 2003 and released in 2004, Soir, Dit-Elle would be the first of several Trio Mediaeval albums recorded at Propstei St.Gerold, a Benedictine monastery nestled among the Austrian Alps, where in 1993, the
Hilliard Ensemble
had collaborated with saxophonist
Jan Garbarek
. Soir, Dit-Elle combines a devotional opus by 15th century English composer
Leonel Power
, with late 20th century works by
Gavin Bryars
, Andrew Smith, Oleh Harkavyy, and once again
Ivan Moody
. The Trio's third album Stella Maris was released not long after being realized in February 2005, and features the voice of
John Potter
on its title track. It combines material from the 13th century with a five-part mass dedicated to the Trio by modern Korean composer Sungji Hong. Folk Songs, recorded in February 2007, diverged somewhat from the textures and patterns of the Trio's previous albums by strongly featuring traditional Norwegian drummer and jaw harpist Birger Mistereggen in a collection combining mediaeval ballads and lullabyes with Norwegian airs and dances. This recording earned the Trio a Grammy nomination, and like Stella Maris made it into Billboard's Classical Top Ten. 2014's Aquilones similarly mixed the old with the new.
The Trio's early to modern approach and methodology is shared by
John Potter
, particularly on his ECM recordings The Dowland Project with
John Surman
, Milos Valent, and
Stephen Stubbs
(2008), and Being Dufay (2009), an electronically enhanced collaboration with composer Ambrose Field. Torunn Ostrem Ossum may be heard on Draumkvedet ("The Dream Ballad"), an album released in 2006 by Norwegian electronic jazz artist Arne Nordheim. When the Trio performed at the West Cork Chamber Music Festival in 2009, they were joined by trumpeter
Arve Henriksen
(who featured them on his 2008 release Cartography) and percussionist Terje Isungset. In addition to a touring schedule which regularly takes them throughout northern Europe, Scandinavia, and the U.K., the Trio has been performing all over the United States since 2005. Examples of their involvement with contemporary performance art music ensembles include several collaborations with composers Julia Wolfe,
Michael Gordon
,
David Lang
, and their
Bang on a Can All-Stars
. In November 2009, these artists appeared together at Carnegie Hall in a production of Wolfe's Steel Hammer, a work inspired by the legend of folk hero John Henry. In February 2010, the Trio recorded A Worcester Ladymass, an album which received highest praise after its release in 2011. This unusually ambitious project, supported and overseen by Manfred Eicher, involved the Trio's music editor Nicky Losseff who painstakingly pieced together fragments and partial manuscripts dating from the 13th and 14th centuries which are preserved in an archive at Worcester Cathedral in western England. The "Credo" and "Benedicamus Domino" for this work were composed in 2008 by
Gavin Bryars
, who specializes in reinterpreting mediaeval Lauda. In 2005, that aspect of his work had resulted in the GB Records release Oi Me Lasso, a collection of 15 Lauda combining the sounds of a string trio with the voices of Anna Maria Friman and
John Potter
. Friman has moved into the realm of ambient electronic pop music and is one of four vocalists heard on
Moby
's 2011 Mute Records release Destroyed. ~ arwulf arwulf
full bio
Selected Discography
Similar Artists
Don't have a Pandora account? Sign up
Already have a Pandora account? Log In