Free personalized radio that
plays the music you love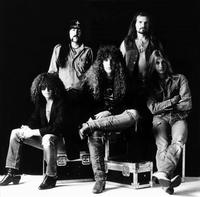 People who also like this
At a time when heavy metal was moving forward faster than ever, thanks to the advent and growing popularity of thrash metal, Chicago's Trouble embodied a nostalgic throwback to the genre's old-school, '70s values -- and specifically a preference for the deliberate, slow-creeping style of the genre's founding fathers,
Black Sabbath
, which, in the able hands of Trouble and California's similarly backward-gazing
Saint Vitus
, came to be known as doom metal. Unfortunately, neither band, nor their few lesser-known colleagues (
the Obsessed
,
Pentagram
, etc.), ever achieved any commercial success to speak of, but their preservation efforts nevertheless rescued metal's original blueprint from disuse, and carved it in granite for subsequent exploration by each new generation of doom bands that followed.
Trouble's unorthodox career path began to unfold in 1979, and after years of painstaking rehearsals, club gigs, and tooling with their sound, vocalist Eric Wagner, guitarists Bruce Franklin and Rick Wartell, bassist Sean McAllister, and drummer Jeff Olson came to the attention of Metal Blade Records, which issued their surprisingly mature eponymous debut in 1984. Also referred to in years to come as Psalm 9 -- because of its namesake-explaining quotation from scripture: "The Lord will be a refuge for the oppressed; a refuge in times of trouble" -- the album revealed not only the quintet's strong ties to heavy metal's '70s aesthetics, but also their Christian beliefs (almost unheard of in the metal world), which quickly earned them the additional label of "white metal." However, neither this, nor "doom," nor any other label mattered as much as Trouble's innate songwriting talents, which may have been too unfashionable to gain mass popularity during the golden era of thrash and pop-metal, but fueled another impressive (and even more depressing) outing in 1985's The Skull. Sadly, growing inner-band turmoil, substance abuse, and disillusion over their meager earnings would start eroding Trouble's momentum in the years leading up to 1987's disappointing Run to the Light. Recorded with a new rhythm section comprised of bassist Ron Holzner and drummer Dennis Lesh (former sticksman Olson having, as legend had it, decided to become a preacher!), Run to the Light once again met with widespread public indifference, concluded Trouble's...uh...troubled relationship with Metal Blade, and plunged the disheartened group into a three-year silence.
Luckily, Trouble were eventually plucked from the brink of extinction by up-and-coming producer
Rick Rubin
, who convinced them to sign with his visionary Def American label and produced their self-titled comeback album in 1990. Released to magnificent reviews in all the major heavy metal rags, the album (featuring new drummer Barry Stern) revitalized Trouble's career and saw them embarking on a yearlong tour that expanded their legend and fan base considerably, even if it failed to make them household names. Achieving just that was surely Trouble's goal when they once again entered the studio with
Rubin
to record their next album, and the stunningly realized Manic Frustration, which introduced more accessible elements of psychedelia into some of Trouble's most energetic performances ever, certainly seemed capable of elevating the long-suffering band to new heights. But this too was a just pipe dream, unfortunately, and -- as they watched yet another critically lauded, cult-raved heavy metal masterpiece fly over the heads of mainstream fans (perhaps due in part to the grunge revolution that had made "metal" a bad word by then) -- it seemed that Trouble's last window to glory had been shut. Subsequently dropped by Def American (experiencing financial problems of their own by now), the band took some time to regroup, welcomed back founding drummer Olson, and eventually issued a new album, 1995's Plastic Green Head, through Music for Nations. But despite offering consistently strong songwriting that harked back to their original doom roots, the album's songs also exuded a palpable sense of wary acceptance, and Trouble's inevitable demise was formally announced a short time later.
The former members of Trouble went to ground in the years that followed, only occasionally surfacing in other projects. Vocalist Eric Wagner would be heard from in 1997, fronting short-lived mushroom-chomping neo-psych band Lid, and guitarist Bruce Franklin and drummer Jeff Olson joined forces with King's X vocalist/ bassist Doug Pinnick for 2000's Supershine band and album. In fact, the fires of Trouble's official and (for loyal doom enthusiasts) much anticipated reunion would not be stoked until 2001, when, after playing the occasional show together, a revived lineup of Wagner, Franklin, Wartell, and Olson, plus new bassist Chuck Robinson, released Trouble's seventh long-player, Simple Mind Condition, in early 2007. ~ Eduardo Rivadavia
full bio
Selected Discography
Similar Artists
Don't have a Pandora account? Sign up
Already have a Pandora account? Log In