Free personalized radio that
plays the music you love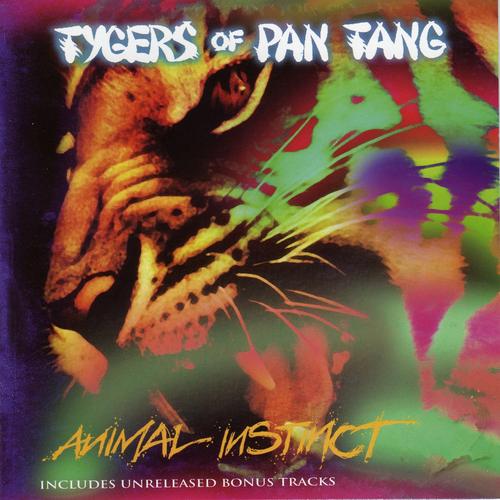 People who also like this
Hailing from the tiny town of Whitley Bay in far northeastern England, the Tygers of Pan Tang (whose name originated from the Michael Moorcock novel Stormbringer) formed when aspiring vocalist Jess Cox met guitarist Robb Weir at the local pub in November 1978.
Weir
, along with bassist Rocky Laws and drummer Brian Dick, had recently formed a band that combined the lessons of early-'70s heavy metal legends such as
Black Sabbath
and
Deep Purple
with the do-it-yourself ethos of punk -- an emerging style eventually dubbed the new wave of British heavy metal. After much rehearsing and gigging in the surrounding area, the foursome recorded a number of demos at Impulse Studios, whose owners (Neat Records) released their first single "Don't Touch Me There" in September 1979. Relentless touring across Britain followed as the band supported such childhood heroes as
the Scorpions
and
Budgie
, as well as NWOBHM peers like
Iron Maiden
and
Saxon
. They also signed a deal with MCA and entered London's Morgan Studios in June to record their proper debut, Wildcat, which went straight into the British charts at number 18 upon its released in July 1980.
Looking to beef up their sound, the band added virtuoso guitarist
John Sykes
just in time for their biggest gig ever at 1980s Reading Festival. Despite this promising start, however, Cox decided to quit the group at year's end, citing the ever-popular "musical differences" and going on to form the short-lived Lionheart with the recently ousted
Iron Maiden
guitarist Dennis Stratton. Ex-Persian Risk vocalist Jon Deverill was drafted to replace him, and the revitalized Tygers of Pan Tang set to work on their new record. Widely considered their best effort, Spellbound hit the streets in April 1981 and was followed by another bout of touring, which kept the band nipping at the heels of NWOBHM powerhouses like
Iron Maiden
,
Saxon
, and
Def Leppard
. Things began to unravel when MCA forced the band to write and record a follow-up in only three weeks, though, resulting in the uneven Crazy Nights (released in November 1981). European dates in support of
Ian Gillan
followed, but guitarist Sykes quit abruptly to join
Thin Lizzy
upon their return to England (he later achieved even greater success with
Whitesnake
and
Blue Murder
). The band soldiered on with new six-stringer Fred Purser, whose more commercial leanings were heard on 1982's disappointing effort, The Cage. Everyone seemed to be giving up on the Tygers, including their management, which dropped the band just prior to a sold-out tour of Japan. After a brief attempt at self-management, the group decided to call it quits later that year, and a 1983 greatest-hits set seemed to close the book on the Tygers of Pan Tang. Surprisingly, Deverill and Dick would resurrect a glammed-up version of the band in 1985 with bassist Dave Donaldson and guitarists Steve Lamb and Neil Shepherd. They released two albums: 1985's The Wreck-Age and 1987's Burning in the Shade (featuring Shepherd's replacement Steve Thompson on guitar), both of which went absolutely nowhere and prompted another, apparently final split. 1986 also saw the release of the original band's 1980 Impulse Studio demos by Neat Records, under the title First Kill.
During the late '90s, a revised version of the group was assembled to play the Wacken Open Air festival in Germany. The performance was later released in 2001 as Live at Wacken, while a reissued version of Live at Nottingham Rock City arrived that same year. Prompted by their continued popularity in metal circles, the Tygers officially reunited (albeit with a rotating lineup, as members continued to exit the lineup) for a series of new albums, including Mystical, Noises from the Cathouse, and 2008's Animal Instinct. ~ Eduardo Rivadavia
full bio
Selected Discography
Similar Artists
Don't have a Pandora account? Sign up
Already have a Pandora account? Log In