We created Pandora to put the Music Genome Project directly in your hands
It's a new kind of radio –
stations that play only music you like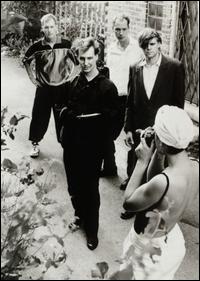 People who also like this
In early 1995, U.S. Maple was born out of the ashes of two groups at Chicago's Northern Illinois University. Lead singer Al Johnson and "high" guitarist Mark Shippy were in
Shorty
, while drummer Pat Samson and "low" guitarist Todd Rittman spent their time with the Mercury Players. After the breakup of the two bands, the members met to see how they could deconstruct rock, only to leave its most basic elements. Since their development, they have released three different albums. The band recorded their first single at Easley Recording Studios in Memphis, TN in September 1995. It included the song "When a Man Says Ow!," which would later reappear on their first full-length album, backed with a number called "Stuck." Doug Easley manned the production boards for the session. Chicago independent record label Skin Graft took notice of the band and signed them on in the fall of that year. Shortly afterwards, the label released the "Stuck" single. Later in the same year, U.S. Maple stepped into Solid Sound Studios at Hoffman Estates in Illinois. It was there that they recorded their first full-length album,
Long Hair in Three Stages
, with renowned indie producer
Jim O'Rourke
. The record was released in October 1995. Before the band would go into the studio to work on their follow-up, they recorded a new single, as well as a contribution for a tribute album. Released on the Sonic Bubblegum imprint in early 1996, the band tackled and disfigured the 1961 Dion & the Belmonts' hit "The Wanderer." It was backed by a new original entitled "Whoa Complains." Then, in May of that same year, they re-recorded the
AC/DC
song "Sin City" for a tribute album on Skin Graft. U.S. Maple appeared alongside other Chicago bands like
Shellac
and Big'n. In early 1997, the group stepped back into Solid Sound Studios once again with the help of
O'Rourke
. What resulted was Sang Phat Editor, released in June. The fall of 1998 was a time of change for U.S. Maple, as they left Skin Graft. The band needed more support from the label due to their extensive touring schedule. It was early in 1999 that the group signed to Drag City Records, another Chicago-based independent label. Their interest in Drag City was a result of their contact with some of its artists one of which included
O'Rourke
. In late January of '99, U.S. Maple returned to the studio. However, they were now recording in Brooklyn, NY at B.C. Studios, rather than Illinois' Solid Sound. Not only did the surroundings change, but the producers did, too.
Michael Gira
, former lead singer of the goth rock band
the Swans
, was in charge of the recording sessions. What resulted was their third full-length album,
Talker
, which was released the following year.
Acre Thrills
arrived in spring 2001. That summer, Samson left the group and was replaced by Adam Vida, who had also played with Drag City artists like
Edith Frost
. ~ Stephen Howell, Rovi
full bio
Selected Discography
Similar Artists