Free personalized radio that
plays the music you love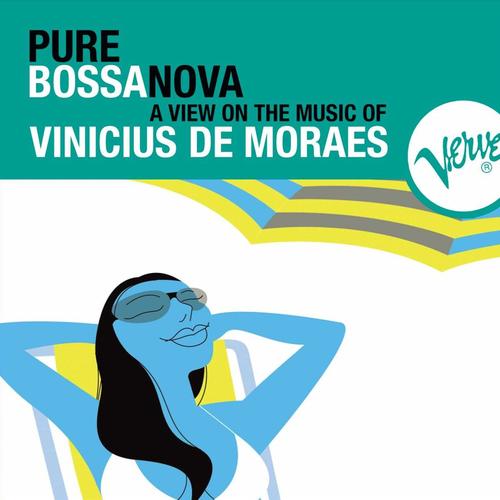 People who also like this
Vinícius de Moraes was a fundamental figure in Brazilian music. As a poet, he wrote lyrics for a great number of songs that became all-time bossa nova and samba classics. As a composer, he wrote some good music, and as an interpreter, he left several important albums. From a musical family, he began very early to write poetry. At 14 he became friends with the brothers Paulo and Haroldo Tapajós. With Haroldo, he composed the fox song "Loura ou Morena," recorded by the two brothers in 1932 with success for Columbia. In 1929 de Moraes enrolled in law school in Catete, Rio. Between 1932 and 1933 he wrote lyrics for ten songs that were recorded by his partners: seven with Haroldo Tapajós, two with Paulo, and one with J. Medina (which was recorded by João Petra de Barros). In 1933 he finished his college studies and released his first book, O Caminho Para a Distância. In 1935 he had his second book (Forma e Exegese) awarded, and in the next year, he became a cinema censor for the health and education cabinet. In 1936 he wrote Ariana, a Mulher and in 1938 headed to England, with an English government scholarship to study literature at Oxford University, and wrote Novos Poemas. At that time he was married by proxy.
With the development of World War I, he returned to Rio. In 1941 he began to write film reviews and critiques. Two years later he joined Brazil's diplomatic service, Itamaraty, also releasing the book Cinco Elegias. In 1946 he was sent to Los Angeles in his first diplomatic assignment as vice consul and released Poemas, Sonetos e Baladas. In 1950 he returned to Brazil due to his father's death. His first samba (with Antônio Maria) is from 1953, "Quando Tu Passas por Mim," a year in which he moved to France as Brazil's embassy second secretary. His play Orfeu da Conceição won the IV São Paulo Centennial Contest in 1954. In 1955 he wrote lyrics for some of Cláudio Santoro's chamber music pieces. That next year he staged Orfeu da Conceição, which was filmed by French writer Marcel Camus. He was then introduced to an unknown pianist,
Antonio Carlos Jobim
, who was commissioned with writing the music for the play.
Jobim
composed "Se Todos Fossem Iguais a Você," "Um Nome de Mulher," and several others, recorded by Odeon with Luiz Bonfá and others. Following a return to Paris in 1956 and another diplomatic assignment at Montevideo, Uruguay, in 1957 (when released Livro de Sonetos, followed by Novos Poemas II in 1959), he stayed there until 1960.
In 1958
Elizeth Cardoso
released her album, marking the beginning of bossa nova. She included on it five compositions by the duo Tom & Vinícius: "Canção do Amor Demais," "Chega de Saudade," "Outra Vez," "Luciana," and "Estrada Branca." The album also brought João Gilberto and his "different beat" onto two tracks, "Chega de Saudade" and "Outra Vez." The careers of all of them had great impetus after that record, and the songs written by Tom & Vinícius became disputed by singers. In 1959 the movie Orfeu do Carnaval, based on the play Orfeu da Conceição, was awarded with the Golden Palm at the international movie festival of Cannes, France, and, in Hollywood, as the best foreign movie. In that time, he and
Jobim
composed "Eu Sei Que Vou Te Amar" and "Amor em Paz." In 1960 he wrote O Amor dos Homens. In 1961 he composed with
Carlos Lyra
"Coisa Mais Linda," "Primeira Namorada," "Nada Como Ter Amor," and "Você e Eu." In 1962 he wrote (together with
Pixinguinha
) the soundtrack for the movie Sol Sobre a Lama (Alex Viany), which included "Lamento"; he also met
Baden Powell
and wrote with him "Samba da Bênção," "Só por Amor," "Canção de Amor e Paz," "Pra Que Chorar," "Deixa," "Samba em Prelúdio," "Apelo," "Berimbau," "Consolação," and other great classics. After
Powell
's return from Bahia, where he dedicated himself to research the Bahian folklore, they composed the series known as the Afro-sambas: "Samba de Oxossi," "Canto de Xangô," "Canto de Ossanha," and others. With
Carlos Lyra
he wrote "Marcha da Quarta-Feira de Cinzas" and "Minha Namorada," included in his play Pobre Menina Rica. In August 1962, together with
Jobim
, João Gilberto, and
Os Cariocas
, he opened the show Encontro at the Au Bon Gourmet nightclub (Rio). That show represented the first audition of "Garota de Ipanema," "Insensatez," "Ela é Carioca," "Só Danço Samba," "Samba do Avião" (all with
Jobim
), and "Samba da Bênção." The same nightclub presented his play Pobre Menina Rica, which had music by
Carlos Lyra
("Sabe Você," "Primavera," and "Pau-de-Arara"). The play launched the career of Nara Leão. He also released Para Viver um Grande Amor. In the next year he met
Edu Lobo
, with whom he would write "Arrastão" (which would win the I FMPB in 1965 with
Elis Regina
's interpretation), "Zambi," and "Canção do Amanhecer."
Returning to Paris, he worked for UNESCO until 1964. Meeting
Francis Hime
upon returning to Brazil, they composed "Saudade de Amar," "Sem Mais Adeus," and "Eu Te Amo, Amor." Together with Dorival Caymmi he presented a show at the Zum-Zum nightclub, which was a major success. Recorded live, it was released by Elenco.
Quarteto em Cy
, four singing sisters he discovered, was launched at that show. At the I FMPB, "Valsa do Amor Que Não Vem" (together with
Baden Powell
) won second place in the interpretation of
Elizeth Cardoso
. He collaborated on the script of the movie Garota de Ipanema and had a second season for his show with Dorival Caymmi. Also in 1965 he released O Mergulhador. In 1966 he participated (with Maria Bethânia and
Gilberto Gil
) in the show Pois É at the Teatro Opinião, which presented
Gil
's compositions. His "Samba da Bênção" (with
Baden
) was included on the soundtrack of Claude Lelouch's movie Un Homme et une Femme, winner of the Cannes movie festival. He also wrote Para uma Menina com uma Flor. In 1968 he was summarily fired after 26 years of work from the Itamaraty by the discretionary powers of military dictatorship. In that year, he toured extensively through Europe (with
Chico Buarque
and Nara Leão) and Argentina (with Dorival Caymmi,
Quarteto em Cy
,
Baden Powell
, and
Oscar Castro-Neves
). In 1969 he performed at Punta del Este, Uruguay, with
Maria Creuza
and
Dori Caymmi
. In that year he also became the partner of
Toquinho
(de Moraes' most frequent partner and biggest friend, they would record 20 LPs together), with whom, along with Marília Medalha, he opened a show in 1970 at the Teatro Castro Alves (Salvador). Also with them, he performed at the La Fusa nightclub (Buenos Aires, Argentina); in January 1971
Toquinho
and de Moraes would again perform there, this time with Maria Bethânia. Still in 1970, taking a hit by Garoto written 20 years before, he wrote (together with
Chico Buarque
) the lyrics for "Gente Humilde." His book Arca de Noé would yield ten years later several TV stagings with music by
Toquinho
, which was released on two LPs: A Arca de Noé (Ariola, 1980) and A Arca de Noé, Vol. 2 (Ariola, 1981). In 1971 an LP with his compositions (with
Toquinho
) "Tarde em Itapoã" and "Como Dizia o Poeta" was released by RGE with great success. It brought a great number of invitations for touring in Brazil and abroad. Always successful the duo came out with "Maria-vai-Com-as-Outras," "Testamento" (1971), "Regra Três" (1972), and others. With
Toquinho
and
Clara Nunes
, he presented the 1973 show O Poeta, a Moça e o Violão at the Teatro Castro Alves, Bahia. ~ Alvaro Neder
full bio
Selected Discography
Similar Artists
Don't have a Pandora account? Sign up
Already have a Pandora account? Log In