Free personalized radio that
plays the music you love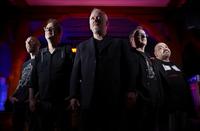 People who also like this
Often described as "Half Cash, half
Clash
" for their fiery mixture of classic country spirit ("Cash" meaning the Man in Black) and old-school punk energy and defiance, the Waco Brothers were the most successful of the many side projects launched by
Jon Langford
, one of the founding members of eclectic British punk-and-beyond troublemakers
the Mekons
. In the '80s,
the Mekons
began exploring the influences of American country music, which they had discovered while touring the United States, and the results were heard on the albums Fear and Whiskey (1985) and Honky Tonkin' (1987).
Langford
in particular was fascinated by the music of Johnny Cash; in 1988, he helped coordinate a U.K. compilation album, 'Til Things Are Brighter: A Tribute to Johnny Cash, and in 1994, he released Misery Loves Company: The Dark and Lonely World of Johnny Cash, a collection of covers credited to Johnny Langford & the Pine Valley Cosmonauts.
After
Langford
relocated to the United States and settled in Chicago, Illinois, he wanted to form a band to play club shows in town, mostly in the interest of fun and free beer.
Langford
assembled a group heavy on fellow U.K. expatriates --
Langford
on guitar and vocals, Alan Doughty (ex-
Jesus Jones
) on bass,
Tracey Dear
on mandolin and vocals, Mark Durante (of
KMFDM
and
Revolting C**ks
) on steel guitar, and Steve Goulding (who worked with
the Mekons
and Graham Parker & the Rumour) on drums, with token native Chicagoan
Dean Schlabowske
(of Wreck and
Dollar Store
) on guitar and vocals. Meanwhile,
Langford
had struck up a friendship with Rob Miller and Nan Warshaw, two fans of both punk and country music who were starting their own record label, and in 1994, the same year the Waco Brothers began playing out,
Langford
contributed two songs to Bloodshot Records' first release, For a Life of Sin -- a solo recording of his song "Over the Cliff," and a version of
the Mekons
' "Hole in the Ground" credited to Iggy Yoakam & His Famous Pogo Ponies. (
Langford
also provided the album's cover artwork.)
While the Waco Brothers initially had no intention of recording, as their local following grew and Bloodshot provided the band a friendly home, they cut an album in 1995, To the Last Dead Cowboy. The album sold reasonably and reviews were good, so they returned in 1997 with Cowboy in Flames. The album's sales far outstripped those of the debut, and the Waco Brothers became one of the leading acts on Chicago's thriving alt-country scene. While most of the group's members, like
Langford
, were also busy with other projects, the Wacos still played Chicago on a regular basis, launched short tours when they were of a mind, and released a steady stream of albums. The Wacos dropped four studio albums between 1999 and 2005 (Wacoworld, Electric Waco Chair, New Deal, and Freedom and Weep), all of which featured the group's hot-wired fusion of country and punk, welded to lyrics that offered a leftist spin on working-class politics. The year 2005 also brought a collaboration with pianist
Dave Herndon
, Nine Slices of My Mid-Life Crisis, and in 2008 the band finally documented its live show on CD with Waco Express: Live & Kickin' at Schuba's Tavern.
The Waco Brothers' next album was another collaboration, Great Chicago Fire, in which they teamed up with celebrated singer and songwriter
Paul Burch
. The album also documented a new Waco Brothers lineup, as Mark Durante left the band and Steve Goulding returned to the reunited Graham Parker & the Rumour; Joe Camarillo, of Number Nine and Gear, took over Goulding's place behind the drums. In 2016, the Wacos released their first studio album of new material from the band in over a decade, Going Down in History, which found the band in stripped-down and fiery form; they supported the album with a short tour, which included several shows in Texas for the South by Southwest Music Conference and, of course, a handful of gigs in Illinois. ~ Mark Deming
full bio
Selected Discography
Similar Artists
Don't have a Pandora account? Sign up
Already have a Pandora account? Log In