We created Pandora to put the Music Genome Project directly in your hands
It's a new kind of radio –
stations that play only music you like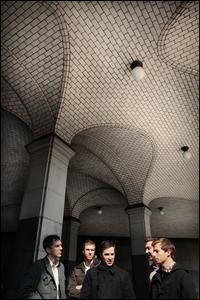 People who also like this
The Walkmen feature three members from Jonathan Fire*Eater and two from the Recoys. When Jonathan Fire*Eater disbanded in 1998, the group took the remainder of their Dreamworks funding and established an uptown rehearsal space in New York City that doubled as a 24-track recording studio where they use a wide variety of vintage equipment. The 900-square-foot Harlem industrial space, dubbed Marcata Studios, was completed in the fall of 1999. (Bands that have recorded at their studio include labelmates
the French Kicks
and experimental rockers
Arto Lindsay
and
Nação Zumbi
.) The Walkmen, some of whom had gigged in the city under the moniker Today Okay, formed in 2000 and consist of
Fire Eaters
Walter Martin (vocals, organ, etc.), Paul Maroon (guitars), and Matt Barrick (drums) and ex-Recoys
Hamilton Leithauser
(vocals) and Peter Bauer (bass). Like Jonathan Fire*Eater, the members of the Walkmen grew up together in the Washington, D.C., area and have played in the same bands since the fifth grade. Perhaps the only way the group could be any closer is if they were all related. (Martin and
Leithauser
are cousins, so the semi-merging of bands is also somewhat of a family reunion.)
The Walkmen make a conscious attempt to evolve away from the raw, fiery garage sounds of their previous bands. They incorporate piano into the new songs as well as take the compositions in new directions by experimenting with instrumentation and recording techniques. The Walkmen are influenced by such diverse bands as
the Pogues
,
Joy Division
,
Bruce Springsteen
,
Björk
,
U2
,
New Order
,
the Smiths
, and
the Cure
. Their new music has favorably been compared to
Pixies
,
Brian Eno
, and
the Velvet Underground
with strong hints of
U2
and
Television
. An online advertisement for the Marcata Studios explains that the owners appreciate the sonic recordings on
Joy Division
's Peel Sessions,
Talking Heads
'
Fear of Music
,
the Specials
' The Specials, and
Royal Trux
's
Singles
, among others.
The Walkmen released a self-titled, four-song EP in 1999 through the small Brooklyn label Startime International (
Brendan Benson
) and completed a vinyl-only release to be made available at concerts. The first Walkmen concert was at Joe's Pub in the East Village in September of 2000, shortly after their EP was released. In 2002, the Walkmen made their proper full-length debut with
Everyone Who Pretended to Like Me Is Gone
. It was a favorite among indie crowds and the album led the Walkmen to tour the world in support of it.
Bows + Arrows
, the band's first for Warner Bros.' Record Collection label, appeared two years later. Along with touring and appearing in a cameo on the Fox TV series The O.C., the Walkmen began writing a novel, John's Journey, together. The band returned to the studio in 2005, working with Don Zientera at Arlington, VA's Inner Ear Studio on their third album,
A Hundred Miles Off
, and at their own Marcata Studio on a song-by-song cover of
Harry Nilsson
's
P**sy Cats
, which was the last album recorded in Marcata before the band closed it.
A Hundred Miles Off
was released in spring 2006, and
P**sy Cats
arrived that fall. The Walkmen recorded their fourth album in New York's Gigantic Studio and the same Oxford, MS, studio in which they recorded
Bows + Arrows
, releasing
You & Me
in 2008 on Gigantic Music.
Lisbon
, the group's sixth studio album, arrived in 2010 on the Fat Possum/Bella Union label. The following year, the Walkmen celebrated their 10th anniversary as a band while recording with Phil Ek; the results, Heaven, arrived in 2012.~ JT Griffith, Rovi
full bio
Selected Discography
Similar Artists