Free personalized radio that
plays the music you love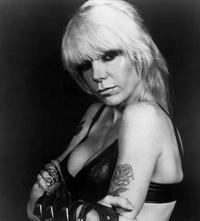 People who also like this
While she never earned the critical acclaim of artists like
Patti Smith
, Siouxsie Sioux, or
Exene Cervenka
, for many Wendy O. Williams was the first female face of punk rock. As the lead singer of
the Plasmatics
, Williams proved a woman could dish out on-stage mayhem as well as any man -- hoisting a chainsaw or a sledgehammer, Williams routinely destroyed guitars, smashed televisions, blew up automobiles, and generally left a trail of destruction in her wake. Williams also blended sex with anarchy, often appearing on stage stripped to the waist with shaving cream or electrical tape covering her nipples as a towering Mohawk bloomed from her scalp, creating a vision of a wildly empowered outlaw woman whose echoes would be felt in music and culture long after
the Plasmatics
called it quits.
Wendy Orlean Williams was born on May 28, 1949, in Rochester, New York. Williams' parents were strict and straight-laced, and her earliest exposure to performing came from taking tap-dancing lessons and appearing in the Peanut Gallery on The Howdy Doody Show at age seven. After completing ninth grade, Williams let her independent side take over; she quit school and traveled through Europe and the United States, taking odd jobs to support herself along the way. In 1976, Williams arrived in New York City and met Rod Swenson, a Dada-influenced performance artist who was running an experimental erotic theater in Times Square as "Captain Kink." Williams became a performer in Swenson's shows and as he grew interested in the punk rock scene exploding in Manhattan and on the Bowery, they decided to form a rock band with Williams as lead singer. The band became
the Plasmatics
, who made their debut at CBGB in 1978; merging the simplicity of punk and the guitar attack of heavy metal,
the Plasmatics
were best known for the over the top destructive impact of their stage show as well as their forceful anti-authoritarian message.
By 1980,
the Plasmatics
had become a major draw in New York and were developing an international reputation after they signed a deal with Stiff Records and released their first album, New Hope for the Wretched. In early 1981, Williams made headlines when she was arrested following a show in Milwaukee, Wisconsin, where police charged her with obscenity for miming masturbation on-stage using a sledgehammer. Following her arrest, Williams was beaten by the arresting officers (who claimed she attacked them), and her mug shot showed her bruised and battered. Several days later, Williams was arrested on similar charges in Cleveland, Ohio, though the police handled her more gently; she was cleared of all charges in both cities, though her lawsuit against the Milwaukee police for battery was unsuccessful.
The publicity regarding Williams' legal problems had the unexpected consequence of raising her public profile considerably, and
the Plasmatics
found themselves making regular appearances on American television shows such as Fridays, SCTV, and Tomorrow, hardly common for an American punk band at the time. The year 1981 also saw the release of two
Plasmatics
records, the album Beyond the Valley of 1984 and the EP Metal Priestess, which put the group's metal influences into focus. Williams and the group continued to follow their new hard rock direction on their first major-label album, 1982's Coup d'Etat; that same year, Williams collaborated with
Lemmy Kilmister
of Motörhead on a duet single, covering the
Tammy Wynette
hit "Stand by Your Man."
After the commercial disappointment of Coup d'Etat, Williams and Swenson opted to make a Wendy O. Williams solo album for an independent label, and 1984's WOW featured several members of the band along with producer
Gene Simmons
. While the album earned Williams a Grammy nomination for Best Female Rock Vocal Performance, it failed to break Williams into the mainstream as a solo act, and her 1986 follow-up, Kommander of Kaos, fared little better. That same year, Williams took a stab at acting, appearing in the tongue-in-cheek exploitation film Reform School Girls, though Williams previously made a memorable appearance in Candy Goes to Hollywood, an X-rated feature released in 1979.
The Plasmatics
returned in 1987 with a sci-fi concept album, Maggots: The Record, but it proved to be the group's last hurrah, and after recording a rap album, Deffest! and Baddest! under the name Ultrafly and the Hometown Girls, Williams opted to leave the music business.
While she made a few acting appearances -- including a role in the independent film Pucker Up and Bark Like a Dog and a guest shot on an episode of McGyver -- for the most part Williams and Swenson lived quietly in Storrs, Connecticut, and Williams devoted her energies to animal rehabilitation and promoting vegetarianism. On April 6, 1998, Williams, who according to Swenson had been suffering from a deep depression, committed suicide, shooting herself in the head in a wooded area not far from her home. In 2002 selected solo recordings and work with
the Plasmatics
were compiled in two separate sets, Put Your Love in Me: Love Songs for the Apocalypse and Final Days: Anthems for the Apocalypse. ~ Mark Deming
full bio
Selected Discography
Similar Artists
Don't have a Pandora account? Sign up
Already have a Pandora account? Log In