Free personalized radio that
plays the music you love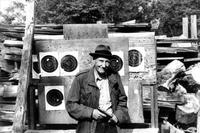 People who also like this
The elder statesman of literature's Beat Generation -- and, by extension, of the American underground culture -- few figures outside of the musical sphere exerted a greater influence over rock & roll than novelist William S. Burroughs. A provocative, controversial figure famed for his unique cut-up prose aesthetic, Burroughs lived the rock lifestyle years before the music itself was even created; the ultimate outsider, he existed on the dark fringes of society in a haze of drugs, guns, and violence, remaining a patron saint of hipsterdom until his dying day. Ultimately, Burroughs' hold on the popular culture was extraordinary: few artists failed to credit him as an inspiration, and while bands like
Steely Dan
and the
Soft Machine
adopted their names from his turns-of-phrase, younger artists like
Kurt Cobain
and the
Disposable Heroes of Hiphoprisy
lined up to offer musical support for his occasional excursions into spoken word performing.
William Seward Burroughs was born February 5, 1914 in St. Louis, MO, the grandson of the founder of the Burroughs Adding Machine company. A homosexual bookworm with a fascination for guns and crime, he attended Harvard University, but largely rejected all the restraints of mainstream society, opting instead to pursue a life in New York City's underworld of organized crime. Upon becoming a heroin addict, Burroughs fell in with junkie drifter Herbert Huncke, leading to his introduction to other future Beat paragons like
Jack Kerouac
,
Allen Ginsberg
, and Lucien Carr; he also met Joan Vollmer, who became his common-law life. While older than the others, Burroughs had yet to begin writing as
Kerouac
and
Ginsberg
had; at first indifferent to literature, he finally completed 1953's Junky, an autobiographical tale of addiction published in pulp novel format by Ace Books. Queer, a similarly upfront examination of homosexuality, was rejected by the publisher and did not surface for several decades.
By the mid-'50s Burroughs, Vollmer, and their children had relocated to East Texas to live on a farm; as his descent into heroin addiction worsened, he found himself hounded by authorities, and eventually the family fled to Mexico. The marriage became the stuff of tabloid headlines when, attempting to impress friends with his shooting skills, Burroughs enlisted Vollmer to participate in a William Tell-like target demonstration; a faulty shot left Vollmer dead and sent Burroughs wandering the globe, finally drifting to Tangier. Following the success of their respective On the Road and Howl, both
Kerouac
and
Ginsberg
had become media sensations, with the Beat Generation emerging in full force; they tracked Burroughs down in Africa, finding him hopelessly addicted to heroin yet somehow able to write brilliant and wildly experimental fragments of prose.
Kerouac
began typing up the material and even gave it a title, Naked Lunch.
Upon its 1959 publication, Burroughs became a celebrity; the novel was the subject of a high-profile obscenity trial, and even today it remains his best-known and most influential book. Beginning with 1961's The Soft Machine, he began experimenting with a "cut-up" method of writing, literally cutting and pasting together various random fragments of text for maximum reader disorientation; in 1965, Burroughs began expanding into other forms of media, recording the LP Call Me Burroughs, a collection of spoken word readings of material culled from Naked Lunch and The Soft Machine. While remaining a prolific literary voice on the strength of work like 1971's The Wild Boys: A Book of the Dead and 1973's Exterminator!, aside from compilation appearances he did not issue another major recording prior to 1975's William S. Burroughs/John Giorno; Nothing Here Now But the Recordings, compiled by Psychic TV's
Genesis P. Orridge
, followed in 1981, as did another collaboration with Giorno, You're the Guy I Want to Share My Money With.
Always a major cult figure, by the late '80s Burroughs had become something of a pop culture icon, a symbol of decadence and ominous genius; a supporting role in Gus Van Sant's 1989 film Drugstore Cowboy brought him his widest mainstream exposure to date, and virtually every hipster worth his salt name-checked him as an influence. After 1987's Break Through in Grey Room, Burroughs recorded 1990's Dead City Radio, a collection of performances backed by
Sonic Youth
,
John Cale
, the
NBC Symphony Orchestra
, and others. In 1992, he guested on
Ministry
's "Just One Fix" single, and the following year recorded The 'Priest' They Called Him with
Nirvana
's
Kurt Cobain
. In 1993, Burroughs recorded his final LP, Spare A** Annie and Other Tales, with the members of the
Disposable Heroes of Hiphoprisy
, and his sampled voice was also heard on recordings from diverse acts including the
Jesus and Mary Chain
,
Laurie Anderson
, and
Material
. With
Tom Waits
, he also co-wrote The Black Rider. The last major surviving figure of the Beat Generation, Burroughs died of a heart attack on August 2, 1997 in Lawrence, KS. ~ Jason Ankeny
full bio
Selected Discography
Similar Artists
Don't have a Pandora account? Sign up
Already have a Pandora account? Log In