Free personalized radio that
plays the music you love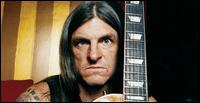 People who also like this
Robert Scott Weinrich, better known by his nickname, Wino, is one of the leading figures in the America's underground heavy metal movement. Even though none of the influential bands Wino has fronted --
the Obsessed
,
Saint Vitus
,
Spirit Caravan
, etc. -- ever achieved mainstream success, they are collectively seen as essential building blocks in the history of heavy metal, particularly in the doom field. As a result, Wino's legend has steadily spread over a three-and-a-half-decade career marked by more challenges than triumphs, making him one of the most referenced and respected icons in the global heavy metal community.
Weinrich was born on September 28, 1961, picked up his first guitar at age eight, and by age 15 had already started his first serious band, War Horse, while attending T.S. Wooton High School in Rockville, Maryland. By his own admission, the guitarist had a difficult time choosing a favorite style amid his multiple influences ranged from
the Beatles
to
Frank Zappa
to
Black Sabbath
to proto-punk "energy" bands (as they were then called) like
the Dictators
; at least until he witnessed a
Judas Priest
concert in 1978 and was transfixed by the opening act,
Pentagram
. An unsigned band from the neighboring state of Virginia,
Pentagram
and its magnetic frontman, Bobby Liebling, had been following in the footsteps of
Black Sabbath
and
Blue Cheer
since the early '70s, and their act convinced Wino to step into line with his own recently renamed fledgling outfit,
the Obsessed
. But, much like Wino's new heroes,
the Obsessed
were a band out of time, completely unfashionable and pretty much untouchable in the eyes of bottom-line-wary record companies of the era. So after making no headway for several years, on-stage or in demo form, the only resort left for the vocalist/guitarist and his cohorts Mark Laue (bass) and Dave the Slave (drums) to pursue was to finance their own recordings, which they did with 1983's Sodden Jackal EP, to be sold at gigs. Two years later,
the Obsessed
also managed to land a song named "Concrete Cancer" on Metal Blade's Metal Massacre, Vol. 6 compilation, but they were obviously going nowhere fast. So when Wino's connections in the D.C. hardcore scene, Ian MacKaye and
Henry Rollins
, recommended he look into the vacant lead vocalist position with L.A.-based doom outfit
Saint Vitus
, Wino jumped at the chance, and 1986 found him living in Tinsel Town, rehearsing six days a week with
Vitus
.
However, as the only bona fide heavy metal band signed to seminal independent hardcore label SST,
Saint Vitus
were hardly living like rock stars. In fact, guitarist Dave Chandler, bassist Mark Adams, drummer Armando Acosta -- and recently departed lead singer Scott Reagers -- had little to show for their half-decade existence save for a record deal, a few albums and name recognition on the fringes of metal and hardcore. Although Wino's contributions were immediately felt on
Saint Vitus
' next (and generally acknowledged best) album, Born Too Late, America's growing fascination with heavy metal had yet to expand enough beyond glam and thrash to appreciate
Vitus
' revival of
Black Sabbath
's doom-laden approach. That said, the tide would steadily turn in that direction throughout the late '80s, opening the door for their band to tour Europe. Yet
Saint Vitus
enjoyed very meager rewards from their next two albums, Mournful Cries (1988) and V (1990). Around this time, Wino also covertly contributed vocals to the demos of an obscure L.A. doom band named Lost Breed, and guitar and bass parts for
the Mentors
. All of these factors, as well as escalating substance abuse and deteriorating relationships with the members of St. Vitus, combined to drive Wino out of the band. Around the same time, an eponymous release of ancient demos by
the Obsessed
also motivated him to resurrect his old group with the help of bassist
Scott Reeder
and drummer Greg Rogers. Two new studio albums by
the Obsessed
followed on Hellhound Records, with 1992's Lunar Womb solidifying Wino's standing as a doom force to be reckoned with. The Church Within (featuring bassist Guy Pinhas) issued in 1994, was picked up by Columbia Records. But the record did not meet the major-label's unrealistic sales expectations and
the Obsessed
's latest incarnation soon crumbled. Wino now had something bigger to worry about anyway -- a life-threatening drug habit.
After surviving nearly two decades' worth of heavy boozing and drug abuse, Wino suddenly found himself alone and adrift in Los Angeles as the '90s neared their halfway mark. With no band to focus his energies on, he was despondent, destitute, and eventually became homeless. He finally hit rock bottom when an injured foot became so infected it nearly required amputation. But Weinrich proved resilient. He made his way back east, where he proceeded to clean up his act and inevitably started playing music again. He hooked up with former
Wretched
bassist/vocalist Dave Sherman and ex-
Unorthodox
drummer Gary Isom to launch new band Shine, which was shortly thereafter renamed
Spirit Caravan
. Over the course of two inspired albums (1999's Jug Fulla Sun and 2001's Elusive Truth) and one EP (1999's Dreamwheel),
Spirit Caravan
developed a leaner, more psychedelic, and even more spiritual doom metal template; it was responsible for some of the strongest material of Wino's career (even though old
Obsessed
material continued to be re-utilized on these releases). Warmly embraced by the bustling stoner rock scene of the period,
Spirit Caravan
properly exposed Wino's talents to a larger, younger, and more accepting audience than ever before. Not to be outdone, many longtime Wino loyalists also considered
Spirit Caravan
his crowning achievement, making it all the sadder when the trio decided to go their separate ways in May of 2002, leaving behind 2003's The Last Embrace anthology as a final keepsake.
However,
Spirit Caravan
's downfall hardly spelled the end of the road for Wino who, if anything, appeared to be busier than ever as he briefly joined
Place of Skulls
(the band led by former
Pentagram
guitarist Victor Griffin) for 2003's With Vision LP, performed on
Dave Grohl
's
Probot
project (amid countless guest solos played on many other stoner rock bands' albums), then founded yet another original power trio named
the Hidden Hand
. For this endeavor, Wino partnered with bassist/vocalist Bruce Falkinburg and drummer Dave Hennessy, in what amounted to a conspiracy theory-laced psychedelic doom group (tweaked by sporadic hardcore speed bursts as had been Wino's custom going back to his
Obsessed
days), whose political concerns were obviously totally at odds with
Spirit Caravan
's more ethereal subject matter.
The Hidden Hand
would go on release three studio albums in 2003's Divine Propaganda, 2004's Mother Teacher Destroyer, and 2007's The Resurrection of Whiskey Foote (featuring new drummer Evan Tanner), amid a smattering of EPs and splits. The band duly ran its course as Wino -- by then increasingly stable in his personal life -- started feeling creatively restless. Never one to say no to a guest appearance, or a new collaboration, Wino joined forces with
Neurosis
vocalist/guitarist
Scott Kelly
, Om bassist
Al Cisneros
, and
Melvins
drummer Dale Crover in a supergroup called
Shrinebuilder
(their eponymous LP emerged the following year). Then he surprised fans everywhere by releasing his first album under the Wino name with 2009's Punctuated Equilibrium. The biggest surprise came a year later, however, with the release of his debut solo (largely) acoustic effort Adrift on Germany's Exile on Mainstream label. Despite its instrumentation -- his acoustic guitar with some electric highlights -- the album was indeed "heavy." In 2011, while touring in support of Adrift, Wino met German singer/songwriter
Conny Ochs
on a label tour.
Ochs
was supporting his aptly titled Raw Love Songs effort. The pair hit it off immediately, shared some stage time during the tour, and wrote and recorded together after. The end result was the collaborative album Heavy Kingdom; it appeared in Europe in January of 2012 and in North America in early spring. ~ Eduardo Rivadavia
full bio
Selected Discography
Similar Artists
Don't have a Pandora account? Sign up
Already have a Pandora account? Log In