We created Pandora to put the Music Genome Project directly in your hands
It's a new kind of radio –
stations that play only music you like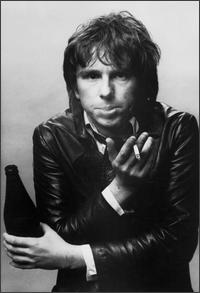 People who also like this
Wreckless Eric gained notoriety as part of Stiff Records' highly eccentric roster of punk and new wave artists during the late '70s. With his whiny, slurred cockney voice, Eric couldn't carry a tune, but that didn't prevent him from being an enjoyable, if limited, rock & roller. With his early Stiff singles "Whole Wide World," "Semaphore Signals," and "Take the Cash (K.A.S.H.)," Eric bashed out a series of ragged, chaotic, three-chord punk-pop singles driven by his pent-up energy and a knack for melodic pop hooks. Wreckless Eric never had a big pop hit, but his engaging sense of humor and fondness for simple rock & roll helped make him a cult figure who continued to have a following into the '90s and beyond.
Born Eric Goulden in Newhaven, Sussex, England, Wreckless Eric became interested in music through the pub rock scene of the mid-'70s. Once punk emerged in the late '70s, he became attracted to its amateurish sense of freedom, and his music soon reflected his fascination with the music. Stiff Records signed him in 1977 and had
Nick Lowe
produce Eric's debut single, "Whole Wide World"/"Semaphore Singles." In addition to producing the record,
Lowe
played most of the instruments on the single. "Whole Wide World" received positive reviews and became a moderate hit in the punk underground, but what made Wreckless Eric infamous were his performances on the Live Stiffs package tours. On both of the Live Stiff tours, Eric earned headlines in the U.K. press for his ridiculous drunken antics, which occurred as frequently on-stage as they did behind the scenes. His 1978 eponymous debut had the same boozy sense of charm, but his second album, The Wonderful World of Wreckless Eric (1979), demonstrated a previously unknown musical versatility. However, the album didn't receive much attention after its release, primarily because Stiff was concentrating its efforts on
Ian Dury
and
Madness
, as well as a variety of half-baked marketing schemes. Wreckless Eric fashioned his third album,
Big Smash
, as a commercial breakthrough, but the record was poorly received and neglected by Stiff, prompting him to quit the music industry in the early '80s.
After spending several years in retirement, Wreckless Eric returned to music in 1985 with Captains of Industry, a group he formed with several former members of Ian Dury's Blockheads. The group released a record called A Roomful of Monkeys on Go! Discs before disbanding. The following year, Eric formed the Len Bright Combo with bassist Russ Wilkins and drummer Bruce Brand, who had both played with the Milkshakes. The Len Bright Combo released two albums in 1986 before disbanding. Shortly after the group's breakup, Eric moved to France, where he released Le Beat Group Electrique in 1989. By the early '80s, Wreckless Eric had developed a more subdued pop direction that was often compared to that of
Jonathan Richman
. Throughout the '90s and into the new millennium, he released records and performed in France, occasionally venturing to England and other parts of Europe. By 2008 he had formed a duo with singer/songwriter
Amy Rigby
and returned to Stiff Records, which released the
Wreckless Eric & Amy Rigby
CD in September of that year. ~ Stephen Thomas Erlewine, Rovi
full bio
Similar Artists