We created Pandora to put the Music Genome Project directly in your hands
It's a new kind of radio –
stations that play only music you like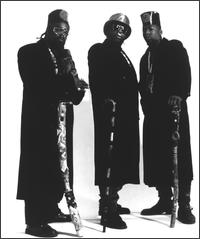 People who also like this
A good number of Afrocentric, politically oriented rap groups put out records during the late '80s and early '90s. Very few of those groups were on the level of the hard-hitting X Clan, a Brooklyn-based collective that released a pair of stellar albums -- 1990's
To the East, Blackwards
and 1992's Xodus -- before breaking up. The group's primary members were Grand Verbalizer Funkin Lesson "Brother J" (born Jason Hunter), Lumumba Professor X "The Overseer" (born Lumumba Carson, the son of prominent and influential activist Sonny Carson), the Rhythem Provider "Sugar Shaft" (born Anthony Hardin), and Grand Architect "Paradise" (born Claude Grey), and they were joined by a cast of associates, which included powerful MC
Isis
(aka Lin Que). X Clan were activists outside of music as well; they were Blackwatch members and were vocal supporters of several pro-black organizations.
Unfortunately, the group's political stance and their bold red-black-green garb often gained more attention than their records, which featured Brother J's accomplished vocal skills and teacher-like lyricism over in-house productions that flipped the overused
Parliament
/
Funkadelic
sampling routine on its back as well as any other group.
To the East, Blackwards
and Xodus were almost equally strong, reflected in the fact that both albums peaked at number 11 on the Top R&B/hip-hop album chart. Before the group's split, both Professor X and
Isis
released spinoff solo albums. After the group's split, Brother J formed
Dark Sun Riders
, a project that released an album in 1996. The year before that, Sugar Shaft succumbed to AIDS-related causes. None of this prevented the group from re-forming at the end of the '90s; however, as of 2003, the group had yet to release anything commercially. Professor X passed away in March 2006, a victim of meningitis. ~ Andy Kellman, Rovi
full bio
Selected Discography
Similar Artists