We created Pandora to put the Music Genome Project directly in your hands
It's a new kind of radio –
stations that play only music you like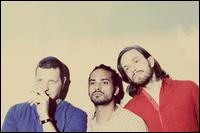 People who also like this
The music of Brooklyn's Yeasayer is an eclectic, genre-bending journey into pop, rock, Middle Eastern and African musics, folk, and dub. Vocalist/keyboardist Chris Keating and vocalist/guitarist Anand Wilder were both raised in Baltimore, where they honed their vocal skills in a barbershop quartet and played in a high-school band, Sic Transit, before leaving town to attend different colleges. Years later, the two relocated to New York and began shaping the project that would soon become Yeasayer. Wilder's cousin, Ira Wolf Tuton, joined as the group's bassist, and drummer Luke Fasano was the last member to climb aboard in May 2006.
The band set to work on recording its debut album,
All Hour Cymbals
, which was unveiled to much critical acclaim (not to mention a healthy blogosphere buzz) in October 2007. International tour dates and festival appearances followed, during which the band honed its blend of live instrumentation and prerecorded samples. When it came time to record a second album, Yeasayer traveled to Woodstock, New York, and rented out the country home of percussionist Jerry Marotta. The resulting record,
Odd Blood
, appeared in early 2010 and showcased a different side of the band, with synthetic sounds and dance-inspired production playing a much larger role.
Odd Blood
proved even more successful than its predecessor in terms of album sales, and Yeasayer continued to tour internationally. In the fall of 2011, work began on the group's third album,
Fragrant World
. A continuation of the murkier textures of
Odd Blood
, the album arrived in the summer of 2012 and featured guest appearances from string player
Kishi Bashi
and
NOMO
's Elliot Bergman. ~ Kenyon Hopkin, Rovi
full bio
Selected Discography
Similar Artists