Free personalized radio that
plays the music you love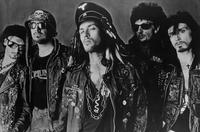 People who also like this
Zodiac Mindwarp And The Love Reaction
Some rockers know from a very young age that their calling in life is to ride in limos and play to arenas full of Bic-wielding fans. For Zodiac Mindwarp, it was a calling that occurred later in life. Working as a graphic artist and editor at the British publication Flexipop, Mark Manning assumed the alter ego Zodiac Mindwarp, and set out to experience the fabled "rock & roll lifestyle" firsthand. Forming Zodiac Mindwarp & the Love Reaction in the mid-'80s, the singer has subsequently enlisted the aid of musicians with extremely colorful names over the years -- Cobalt Stargazer, Slam Thunderhide, Evil B**tard, Flash B**tard, and Trash D Garbage are but a few who have served in the Love Reaction ranks.
Releasing several singles/EPs during 1986 and 1987 ("Wild Child," "High Priest of Love," "Prime Mover," and "Back Seat Education"), the group issued its self-titled full-length debut in early 1988. Reaching the U.K. Top 20 album chart, the album also managed to cause a mild buzz in the U.S., as Zodiac Mindwarp supported the release with dates opening for Guns N' Roses (who were just about to break big with Appetite for Destruction). The album did leave a substantial impression on shock rock trailblazer
Alice Cooper
, who was quite vocal about his appreciation of the band in interviews, and even enlisted Mindwarp himself to co-pen a track ("Feed My Frankenstein") on
Cooper
's 1991 star-studded release, Hey Stoopid.
It appeared that a promising future lay ahead for Zodiac Mindwarp, but the group appeared to completely fade away into obscurity, although it did manage to release a few more low-key releases in the '90s -- 1991's Hoodlum Thunder, 1993's Live at Reading, and 1994's One More Knife. Additionally, Mindwarp co-penned a track for the group
Voice of the Beehive
("There's a Barbarian in the Back of My Car" on 1988's Let It Bee) and sang on the track "Fire Engine Red" on
the Grid
's 1992 album, 4,5,6. Mindwarp has also penned books -- both in collaboration with Bill Drummond and on his own. Despite such a long layoff between albums, Zodiac Mindwarp returned in the early 21st century with a pair of studio efforts, 2002's I Am Rock and 2005's Rock Savage, as well as the 2004 concert release Weapons of Mass Destruction. ~ Greg Prato
full bio
Selected Discography
Similar Artists
Don't have a Pandora account? Sign up
Already have a Pandora account? Log In