Free personalized radio that
plays the music you love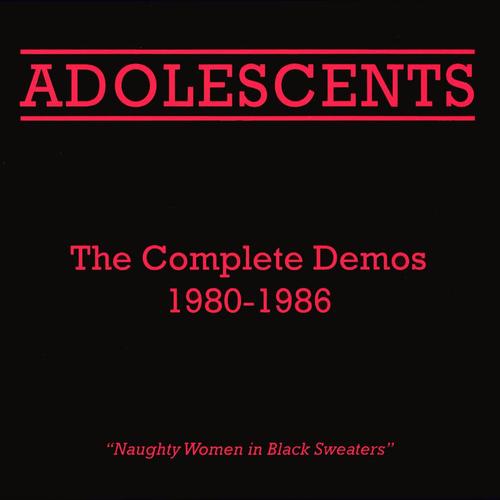 People who also like this
One of Southern California's best-loved hardcore bands, the Adolescents helped establish the blueprint for Orange County punk, along with
Agent Orange
and
Social Distortion
. Although their music was the most standard-issue of the three, the Adolescents' blazing energy and quintessential teenage snottiness gave them an instant connection with their audience, and defied their upbringing in California's bastion of staid conservatism. Their original lineup was only together briefly, and the majority of their limited discography was actually recorded during a late-'80s reunion. Nonetheless, their impact was an enduring one, as countless followers borrowed from their attitude and covered their best-known songs.
The Adolescents were formed in 1980 in the Los Angeles suburb of Fullerton, at the border of Orange County. Lead vocalist Tony Cadena (aka
Tony Montana
, aka Tony Adolescent) joined up with bassist Steve Soto, who'd just left
Agent Orange
. They first recruited guitarist Frank Agnew (who'd just left the charter lineup of
Mike Ness
'
Social Distortion
), guitarist John O'Donovan, and drummer Peter Pan. This lineup splintered quickly, however, and the latter two were replaced by guitarist
Rikk Agnew
(Frank's brother) and drummer Casey Royer; both had been playing in the Detours, and both had also been original members of
Social Distortion
. Later that year, the group issued the classic hardcore single "Amoeba" on Posh Boy Records; the track also appeared on the inaugural Rodney on the ROQ compilation, assembled by legendary L.A. punk DJ Rodney Bingenheimer.
The Adolescents' self-titled debut album was released on Frontier Records in 1981, and quickly became one of the best-selling California hardcore albums behind
the Dead Kennedys
' Fresh Fruit for Rotting Vegetables. Despite its relative success,
Rikk Agnew
left the band by the end of the year; he recorded a solo LP for Frontier, All by Myself, on which he played all the instruments, and also joined
Christian Death
, playing on their seminal goth rock debut, Only Theatre of Pain, in 1982. He was replaced very briefly by ex-Germs guitarist Pat Smear, then by Royer's roommate Steve Roberts. With Roberts, the quintet recorded a three-song EP, Welcome to Reality; however, deprived of their chief instrumental weapon, the group had already disbanded by the time it was released in the fall of 1982. Royer concentrated on fronting the fairly successful D.I., which expanded to include
Rikk Agnew
once his stint in
Christian Death
had ended. Soto and Frank Agnew both joined Legal Weapon, while Cadena formed a new group called the Abandoned.
In 1986, the version of the Adolescents that had recorded the group's lone album reunited for a series of shows around Los Angeles. They soon began working on new material, but before long, Royer returned to D.I., and Frank Agnew departed as well. They were replaced by Sandy Hansen on drums and the Agnews' younger brother Alfie on guitar. This lineup recorded the comeback album Brats in Battalions, which was eventually released in 1987 on the band's own label; by that time, Alfie Agnew had departed for college, to be replaced by Dan Colburn. After touring for most of 1987, both Colburn and lead singer Cadena tired of the band and left as well.
Rikk Agnew
and Steve Soto decided to share lead vocal duties and keep the band going. They recruited new guitarist Paul Casey, who left after a few months of touring; he was replaced by a returning Frank Agnew. This lineup signed with Triple X and recorded 1988's Balboa Fun*Zone, which deviated from the group's trademark style but won some praise nonetheless.
Uncertain of what musical path to follow, the Adolescents broke up in April 1989, this time -- for all intents and purposes -- for good. Triple X issued the split LP Live 1981 and 1986 as a capstone. Soto, Hansen, and Frank Agnew formed
Joyride
, which released two albums in the early '90s, though Agnew left almost immediately.
Rikk Agnew
resumed his solo career and also toured with
Christian Death
's reunited original lineup. Also in the early '90s, Cadena, Royer, and
Rikk Agnew
started performing together as
ADZ
, releasing an album in 1995. As years passed, however, Cadena was the only one who remained, bringing
ADZ
into the new millennium, eventually with help from Frank Agnew.
In 2001, Cadena, Soto, Royer, and the Agnews reunited for a few sporadic gigs. The rekindled bond resulted in the Unwrap and Blow Me! EP, which was issued in 2003. Live at the House of Blues, a concert album and DVD recorded at Disney World, arrived in 2004. Their comeback LP, OC Confidential, was released in 2005. The band -- now primarily consisting of just Cadena and Soto with a revolving cast of touring musicians -- set out on the road in support of the album. The updated incarnation recorded a split EP with Burning Heads in 2009, later issuing their fifth LP, The Fastest Kid Alive, in 2011. The release of the American Dogs in Europe EP coincided with a 2012 European tour in support of Kid. Their prolific late-era output continued with a new release arriving each year, first with their sixth LP, Presumed Insolent, in 2013, followed by 2014's La Vendetta... E un Piatto Che Va Servito Freddo. Another split EP -- this time with Russian outfit
Svetlanas
-- was issued in 2015. The Adolescents' seventh, Manifest Density, arrived in the summer of 2016. ~ Steve Huey
full bio
Selected Discography
Similar Artists
Don't have a Pandora account? Sign up
Already have a Pandora account? Log In