Free personalized radio that
plays the music you love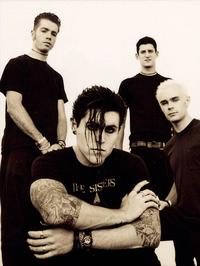 People who also like this
Northern Californian hardcore punk revivalists AFI formed in 1991 when the band's four founding members -- vocalist Davey Havok, guitarist Markus Stopholese, bassist Vic Chalker, and drummer Adam Carson -- were attending high school in Ukiah. Chalker was replaced by Geoff Kresge after eight months, and the band played several local gigs and released a split 7", Dork, with fellow Ukiah natives Loose Change (a band that incidentally included future AFI member Jade Puget). An EP titled Behind the Times was released as well. The bandmembers then split up to attend different colleges, with Kresge temporarily moving to New Jersey to join
Blanks 77
. However, AFI reconvened during a holiday break to play a one-off reunion show, and audience response was so positive that the bandmembers decided to quit school and concentrate on music full-time.
AFI (whose abbreviation stands for "A Fire Inside") issued several singles before securing a record deal with the Nitro label, which issued the band's second album, Very Proud of Ya, in 1996. Two LPs followed in 1997 -- a re-release of their 1995 debut, Answer That & Stay Fashionable, and Shut Your Mouth & Open Your Eyes -- and personnel shifts ensued. Kresge was the first to leave, being replaced by bassist Hunter Burgan, and Stopholese departed in favor of ex-
Redemption 87
guitarist Jade Puget, who then shared songwriting duties with Havok. The new lineup recorded an EP titled A Fire Inside in 1998, and issued a noticeably more mature full-length in 1999, Black Sails in the Sunset; 1999 also saw the release of the All Hallow's EP and The Art of Drowning a year later. Though already having a fiercely loyal core fan base, the latter album saw the band's music attracting an even larger audience, due in part to the moderate success of the single "Days of the Phoenix." Accordingly, it was the first album to chart in the Billboard 200.
At the onset of the new millennium, AFI hooked up with producers Jerry Finn and
Garbage
's Butch Vig for a new set of recording sessions. The end result was the ambitious Sing the Sorrow, AFI's major-label debut for DreamWorks, which showcased the band's significant growth since its early hardcore days. Released in 2003, the record also marked AFI's crossover into the mainstream. Sing the Sorrow eventually went platinum, buoyed by the singles "Girls Not Grey" and "The Leaving Song, Pt. II," both of which were popular on MTV.
Working again with Jerry Finn (who had also produced records for
blink-182
and
Green Day
), the band began recording the follow-up that would be their most labor-intensive to date, resulting in two years of detailed songwriting. Decemberunderground, AFI's seventh album, surfaced in 2006 on the Interscope label. The album was an instant success, debuting at number one on the Billboard charts and launching a summer-long tour, followed by a string of overseas performances in October. While on tour, Havok and Puget dedicated their spare time to a side project that would eventually become
Blaqk Audio
, which they debuted in early 2007. AFI released the concert album I Heard a Voice: Live from Long Beach Arena later that same year, but the bandmates continued pursuing their own projects, with Hunter Burgan playing bass for several other bands while Jade Puget did remix work for the likes of
the Cure
.
AFI properly reconvened in 2008 to begin writing new material; by November, they had announced their intention to begin recording with producer David Bottrill. Two months later, they traded Bottrill for a pair of new producers -- Joe McGrath and Jacknife Lee -- and continued working on the album, focusing on songs that were harder than those found on Decemberunderground. The result, Crash Love, was their most straight-ahead rock record to date. The album was released in September 2009 and proved to be another success, though it did not chart as highly or sell as well as the previous two albums. AFI toured extensively throughout 2010 to promote the release before going quiet for a couple of years. In 2013 they announced they would be returning with a new album, Burials, in October. Produced by Gil Norton, the album was preceded by a number of singles including the thrilling, melodic pop-punk anthem "17 Crimes."
Four years would pass before the next AFI album, during which time Havok and Puget worked on music for hardcore side project
XTRMST
, as well as
Blaqk Audio
's third LP. The self-titled AFI (also known as "The Blood Album") was issued in January 2017. It included the singles "Snow Cats" and "White Offerings." ~ Steve Huey
full bio
Selected Discography
Similar Artists
Don't have a Pandora account? Sign up
Already have a Pandora account? Log In