Free personalized radio that
plays the music you love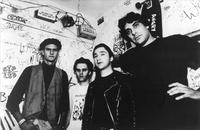 People who also like this
Along with
X
,
Black Flag
,
Fear
, and
the Circle Jerks
, the savagely satirical Angry Samoans rode the first wave of Los Angeles punk. Formed in Van Nuys, CA, in the summer of 1978, the band was founded by singers and guitarists "Metal" Mike Saunders and Gregg Turner, a pair of erstwhile rock critics who'd previously teamed with fellow writer Richard Meltzer in the group VOM. Adding Saunders' brother Kevin on guitar, the group considered names like the Egyptians and the Eigenvectors (a mathematical term), they settled on the Angry Samoans, and enlisted bassist Todd Homer and drummer Bill Vockeroth, and initially set out as a
Dictators
cover band.
Soon, Saunders and Turner began writing original material, drawing influence from
the Velvet Underground
,
the Sonics
,
the 13th Floor Elevators
, and garage rock. After honing their primitive and increasingly thrashy sound at a series of surreal gigs (including sets at the Camarillo State Mental Hospital and a lunchtime show at Santa Monica High School, where MC Meltzer asked if any "heroin addicts" were in the audience), the Samoans -- substituting guitarist P.J. Galligan for Kevin Saunders -- debuted in 1980 with the EP Inside My Brain, highlighted by "Get Off the Air," their pointed swipe at KROQ DJ Rodney Bingenheimer and the L.A. musical community.
Two years later, they resurfaced with Back from Samoa, featuring titles like "They Saved Hitler's C**k," "Tuna Taco," and "My Old Man's a Fatso." Soon, the bandmembers grew disenchanted with the entire punk culture, and they spent the next several years largely in a dormant state: guitarist Steve Drojensky replaced Kevin Saunders in 1984, Vockeroth went on hiatus, and
Jeff Dahl
temporarily stepped in for "Metal" Mike in 1985, but by and large the group laid low until 1987's Yesterday Started Tomorrow. Problems with their label and internal differences led the Angry Samoans to disband after recording 1988's STP Not LSD.
In 1991, "Metal" Mike issued a solo EP, Plays the Hits of the '90s; in 1994, Turner released his own album, Santa Fe, and later fronted Gregg Turner & the Blood-Drained Cows. Homer, meanwhile, resurfaced in the neo-psychedelic outfit Mooseheart Faith Stellar Groove Band. By the mid-'90s, "Metal" Mike was also fronting a new Samoans lineup, which still included longtime mainstay Vockeroth as well as guitarists Alison Wonderslam and Mark Byrne, and bassist Adrienne Harmon. Saunders and Vockeroth have continued to anchor the Samoans as the band experienced further lineup changes in the new millennium; as of 2009, Matt "Malice" Vicknair had joined as the group's bassist. The Angry Samoans' infrequent performances during the 2000s (generally once a month in California, although there have also been a few brief European tours) remain a vital link to punk's past. ~ Jason Ankeny
full bio
Similar Artists
Don't have a Pandora account? Sign up
Already have a Pandora account? Log In