Free personalized radio that
plays the music you love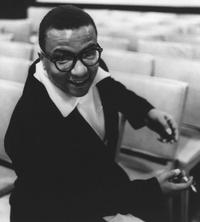 People who also like this
An extravagantly gifted composer, arranger, and pianist -- some considered him a genius -- Billy Strayhorn toiled throughout most of his maturity in the gaudy shadow of his employer, collaborator, and friend,
Duke Ellington
. Only in the last decade has Strayhorn's profile been lifted to a level approaching that of
Ellington
, where diligent searching of the Strayhorn archives (mainly by David Hajdu, author of the excellent Strayhorn bio Lush Life) revealed that Strayhorn's contribution to the
Ellington
legacy was far more extensive and complex than once thought. There are several instances where Strayhorn compositions were registered as
Ellington
/Strayhorn pieces ("Day Dream," "Something to Live For"), where collaborations between the two were listed only under
Ellington
's name ("Satin Doll," "Sugar Hill Penthouse," "C-Jam Blues"), where Strayhorn pieces were copyrighted under
Ellington
's name or no name at all. Even tunes that were listed as Strayhorn's alone have suffered; the proverbial man on the street is likely to tell you that "Take the 'A' Train" -- perhaps Strayhorn's most famous tune -- is a
Duke Ellington
song.
Still, among musicians and jazz fans, Strayhorn is renowned for acknowledged classics like "Lotus Blossom," "Lush Life," "Rain Check," "A Flower Is a Lovesome Thing," and "Mid-Riff." While tailored for the
Ellington
idiom, Strayhorn's pieces often have their own bittersweet flavor, and his larger works have coherent, classically influenced designs quite apart from those of
Ellington
. Strayhorn was alternately content with and frustrated by his second-fiddle status, and he was also one of the few openly gay figures in jazz, which probably added more stress to his life.
Classical music was Strayhorn's first and life-long musical love. He started out as a child prodigy, gravitating toward Victrolas as a child, and working odd jobs in order to buy a used upright piano while in grade school. He studied harmony and piano in high school, writing the music for a professional musical, Fantastic Rhythm, at 19. But the realities of a black man trying to make it in the then-lily-white classical world, plus exposure to pianists like
Art Tatum
and
Teddy Wilson
, led Strayhorn toward jazz. He gigged around Pittsburgh with a combo called the Mad Hatters. Through a friend of a friend, Strayhorn gained an introduction to
Duke Ellington
when the latter's band stopped in Pittsburgh in 1938. After hearing Strayhorn play,
Ellington
immediately gave him an assignment, and in January 1939, Strayhorn moved to New York to join
Ellington
as an arranger, composer, occasional pianist, and collaborator without so much as any kind of contract or verbal agreement. "I don't have any position for you,"
Ellington
allegedly said. "You'll do whatever you feel like doing."
A 1940-1941 dispute with ASCAP that kept
Ellington
's compositions off the radio gave Strayhorn his big chance to contribute several tunes to the
Ellington
band book, among them "After All," "Chelsea Bridge," "Johnny Come Lately," and "Passion Flower." Over the years, Strayhorn would collaborate (and be given credit) with
Ellington
in many of his large-scale suites, like "Such Sweet Thunder," "A Drum Is a Woman," "The Perfume Suite," and "The Far East Suite," as well as musicals like Jump for Joy and Saturday Laughter, and the score for the film Anatomy of a Murder. Beginning in the '50s, Strayhorn also took on some projects of his own away from
Ellington
, including a few solo albums, revues for a New York society called the Copasetics, theater collaborations with
Luther Henderson
, and songs for his friend
Lena Horne
. In 1964, Strayhorn was diagnosed with cancer of the esophagus, aggravated by years of smoking and drinking, and he submitted his last composition, "Blood Count," to the
Ellington
band while in the hospital. Shortly after Strayhorn's death in May 1967,
Ellington
recorded one of his finest albums and the best introduction to Strayhorn's work, And His Mother Called Him Bill (RCA), in memory of his friend. ~ Richard S. Ginell
full bio
Selected Discography
Similar Artists
Don't have a Pandora account? Sign up
Already have a Pandora account? Log In