Free personalized radio that
plays the music you love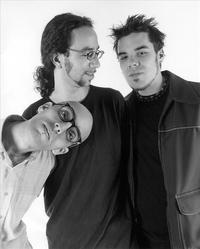 People who also like this
There isn't that much of a resumé for Birth yet, which isn't surprising considering the relative youth of the group, originally from Cleveland and now based in Brooklyn. Birth consists of Joshua Smith, tenor and alto saxophone/live effects/processing; Joe Tomino, drums/percussion/metals; and Jeremy Bleich, bass. As of spring 2000, they were, respectively, 20, 21 and 30 years old. Birth released its eponymous debut on December 30, 1999, just over two months after the group recorded it in four days at Mr. Small's Funhouse, a Pittsburgh studio that's also hosted the likes of
Rusted Root
and
Everclear
. Packaged in an enigmatic brown cardboard foldout digipak, the self-titled album, Birth, ranked as one of the best to come out of Cleveland in years and heralded the arrival of a major band.
For the last two years of the 20th century, Birth performed in various clubs in Cleveland, Pittsburgh, and New York, not only headlining but also opening for such influences as "outside" New York saxmen
Chris Speed
and
Tim Berne
, better known as the man behind Bloodcount. With its move to New York, the band is now seeking greater recognition in an attempt to spread its ultramodern jazz gospel far and wide. Smith began playing in the early '90s as a promising youth. By the time he reached the eighth grade, Smith began to look for a teacher. He began studying with Mike Lee, another notable Cleveland-bred saxophonist who's beginning to make quite a mark in New York. In addition, he also played with Kevin Burner, Wessell Anderson, J.D. Allen, and pretty much anyone else coming through town, with the unfortunate exception of
Joe Lovano
, Cleveland's most famous saxophone son. Furthermore, Smith also spent some time honing his craft with the head of Cleveland State University's department of jazz studies, Howie Smith (no relation to Joshua), an extraordinarily creative player who has worked with everyone from
Elvis Presley
to guitarist Bob Fraser. The future leader of Birth also played in the youth section of the Cleveland Jazz Orchestra and had a stint at the Manhattan School of Music.
"
Lovano
has been a huge guy as far as my listening goes," Smith said. "For a while, all I did was try to imitate his phrasing, but then I realized that most of the stuff I was checking out -- what I was digging about his phrasing -- was stuff he had picked up from
Dewey Redman
. I hadn't listened to
Dewey Redman
. I'm working my way backwards a little bit."
Birth's music stems from four key influences: drum'n'bass, as exemplified by the work of
Squarepusher
, a frenetic, often brilliant "band" from England that is actually the twenty-something Tom Jenkinson, a bass player and drum machine programmer; Seamus Blake, a saxophone player who works in the
Mingus Big Band
and the Bloomdaddies;
Chris Speed
, a Knitting Factory regular who works in "outside" and ethnic formats; and
Tim Berne
's Bloodcount.
"I like the way
Tim Berne
writes," Smith said. "I like the way he writes contrapuntal melodies between the saxophone and bass, and I dig the way Bloodcount communicates, explores and initiates ideas. They kind of turn on a dime. They have a very textural thing happening. Then they go right into a groove out of nowhere."
A few years ago, Smith was playing and writing before eventually hitting a wall. He would play a jazz gig and feel as if he were performing background music. So he decided to up the intensity of his playing with a focus on rhythm. "A lot of young people tend to ignore jazz," Smith said. "It doesn't hit them. I think that's because of the rhythm. We wanted to do something that explored current advanced rhythmic concepts that tie in more with what people are listening to. I remember feeling, 'Man, I really want a band that's going to kick people in the butt.' I'm sick of people feeling creative music is background music, even though they could get a lot out of it. I wanted to do something that would hit them a little harder but also bring in all those creative elements."
Birth can be considered as a power-jazz trio. It kicks jazz in the butt and no doubt will kick it even harder as the group further matures. ~ Carlo Wolff
full bio
Selected Discography
Similar Artists
Don't have a Pandora account? Sign up
Already have a Pandora account? Log In