Free personalized radio that
plays the music you love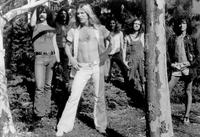 People who also like this
Southern rock veterans Black Oak Arkansas never quite achieved the level of success enjoyed by contemporaries like
Lynyrd Skynyrd
and the Allman Brothers, but have remained a cult band thanks to their raw, primitive energy and the testosterone-fueled antics of lead vocalist/showman James "Big Jim Dandy" Mangrum. Named for Mangrum's hometown, Black Oak Arkansas eventually built up a solid following through incessant touring and enjoyed a run of ten charting albums between 1971 and 1976. The band also found itself with a Top 30 single in their raunchy cover of a
LaVern Baker
R&B hit called "Jim Dandy to the Rescue," which became Mangrum's signature song. When album sales dried up, Mangrum re-formed the band with more musically skilled veteran players and continued to tour, although the group's glory days were past.
Black Oak Arkansas dates back to the mid-'60s, when a group of young, long-haired misfits headed by Jim Mangrum, unable to find work, turned to rock & roll. However, the group was unable to purchase equipment and ended up being arrested for grand larceny after stealing items from the local school in order to get money. They were nearly run out of town and went to live in the nearby hills, locating and borrowing equipment where they could. The band moved to New Orleans in 1969 and called itself
Knowbody Else
, with a lineup of vocalist Mangrum; guitarists Ricky "Ricochet" Reynolds, Stanley "Goober" Knight, and Harvey "Burley" Jett; bassist Pat Daugherty; and drummer Wayne Evans.
Knowbody Else
recorded a self-titled album for Stax, which went nowhere; rethinking their approach, the band became interested in psychedelia and Eastern spirituality, which they filtered through their Southern Baptist upbringing. Changing their name to Black Oak Arkansas, the band secured a deal with Atlantic after several trips to Los Angeles and released its self-titled debut in 1971. While it wasn't a hit, the band toured extensively, building a reputation as a raw, incendiary live act that made up for occasional musical deficiencies with energy and the explicit sexuality of Mangrum, who flaunted his body at every opportunity and became known for such antics as miming sex with the washboard he used for musical accompaniment.
The band's second album, Keep the Faith, was a noticeable improvement, as the band had honed its sound and material through numerous live gigs; If an Angel Came to See You, Would You Make Her Feel at Home? followed the same year, featuring new drummer Tommy Aldridge, but it was 1973's Raunch 'N' Roll Live that established the group as a commercial force. That year, High on the Hog became their most commercially successful album, reaching number 52 on the charts. It was buoyed by the Top 30 cover version of "Jim Dandy to the Rescue," which featured female vocalist Ruby Starr trading innuendoes with Jim "Dandy" Mangrum. Several more albums followed before the group parted ways with Atlantic in 1976; Jett left the band in 1975 and was replaced by Starr cohort James Henderson. Lineup shifts were rampant as the group switched to MCA; Aldridge left and was replaced by Joel Williams, while the guitar/bass axis was gutted and rebuilt around Greg Reding, Jack Holder, and bassist Andy Tanas. This lineup released Race With the Devil in 1977, after the band had one last taste of success with the "Strong Enough to Be Gentle" single. Following several lackluster, straightforward Southern rock albums, the band called it quits in 1980. After recovering from a heart attack, Mangrum reunited with Reynolds in 1984 for a solo album, Ready as Hell; The Black Attack Is Back followed two years later. In 1999, BOA reunited to release The Wild Bunch. ~ Steve Huey
full bio
Selected Discography
Similar Artists
Don't have a Pandora account? Sign up
Already have a Pandora account? Log In