Free personalized radio that
plays the music you love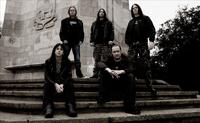 People who also like this
One of Britain's most consistent and enduring death metal bands, Birmingham's Bolt Thrower has weathered the best and worst of times in the extreme genre's history without ever giving in to commercial temptations, or hardly even altering its sound. The fact that they were unusually blessed with a steady lineup throughout much of their career no doubt contributed to this stability, and though they were rarely bestowed wild praise for their efforts, with most of their competitors or contemporaries either adopting other styles or long retired, Bolt Thrower has gradually established itself as one of the best death metal bands ever to emerge from England.
Guitarist Gavin Ward and drummer Andy Whale formed Bolt Thrower in heavy metal's original birthing ground, the industrial city of Birmingham, England, in 1986. Taking their name from a character in one of their favorite role-playing games, Warhammer Fantasy Battle, the duo soon drafted vocalist Alan West, guitarist Barry Thompson, and bassist Jo Bench (one of the first female musicians to take part in an extreme metal group of any sort). True to form given their name, Bolt Thrower would dedicate their whole career to analyzing and dissecting all aspects of human warfare -- its history, its weapons, etc. -- and they quickly took to the road in order to perfect a brutalizing musical onslaught worthy of backing up such morbid subject matter. Despite their material's general inaccessibility, legendary BBC Radio1 DJ John Peel became an early supporter, hosting the group for various early sessions (subsequently released in 1991 with the expected Peel Sessions title) and helping to bolster their profile on their way to securing a deal with the Vinyl Solutions label. Around this time, West was replaced by the band's van driver, one Karl Willetts, who soon proved himself a more than capable successor and served as the final necessary cog in the Bolt Thrower war machine. Released in 1988 with little success, their poorly produced and somewhat tentative debut album, In Battle There Is No Law, lacked the focused ferocity yet to come, but already delved deeply into their lyrical obsessions with anything warlike.
The following year, Bolt Thrower became one of the first acts to sign with on-the-rise extreme metal powerhouse Earache Records (also the home of grindcore experts
Napalm Death
) and 1989's Realm of Chaos fittingly saw them partnering with Games Workshop, the company responsible for the Warhammer game which had inspired their name. Boasting lyrics directly inspired by the game and featuring custom artwork provided by GWS, Realm of Chaos was a far more confident effort, and despite experiencing continued problems on the production end of things, it was clear that the band was slowly finding its identity. Bolt Thrower then joined the now-infamous Grindcrusher tour, also featuring
Napalm Death
,
Carcass
, and
Morbid Angel
, across the U.K., before starting work on what would become their most definitive album, 1991's Warmaster. This time, producer Colin Richardson helped the band achieve the taught, precision-filled intensity they'd been looking for all along, and the resulting LP has since come to represent Bolt Thrower's signature sound: Willetts' deeply guttural growl combined with Ward and Thompson's nearly impenetrable wall of dense guitar riffs, set to the requisite double kick drums; but interestingly, these didn't always resort to all-out speed, but rather maintained a measured, pounding pace, which was somehow even more powerful for it. Their sonic paradigm now in place, Bolt Thrower kept themselves extremely busy for the next few years, touring incessantly across the U.K. and Europe with the likes of
Unleashed
and
Cemetary
, while recording strong follow-ups like 1992's The IVth Crusade and 1994's For Victory, each of which achieved only slightly inferior results and maintained the group's gradual shift toward slower, doomier styles.
Bolt Thrower's longtime stability was coming to an end, however, as vocalist Willetts and drummer Whale threw in their lot around this time, wishing to get off the road and pursue a more normal lifestyle. For their part, the remaining bandmembers were becoming increasingly protective of their art, and, convinced they weren't getting the best promotional support, parted company with Earache and signed to Metal Blade. Meanwhile, replacement musicians came and went as the group prepared new material, and repeated delays over artwork kept postponing the release of their sixth official album. By the time 1998's Mercenary finally arrived, original singer Willetts had been persuaded to return long enough to record his parts and new drummer Alex Thomas was sitting on the hot-stool; but by then, most fans had given Bolt Thrower up for dead and moved onto new bands to idolize. Perhaps reflecting the turmoil within, the record was also hardly one of their most stellar outings, and it was neatly overshadowed by former label Earache's Who Dares Wins collection of the same year. Dutch vocalist Martin VanDrunen was brought in for touring purposes, but further lineup changes preceded the recording of 2001's semi-comeback Honour Valour Pride, by which time Bolt Thrower's core lineup of Thompson, Ward, and Bench was complemented by drummer Martin Kearns and ex-
Benediction
singer Dave Ingram. Ingram left soon after the record's release, prompting the return of original vocalist Karl Willets. Those Once Loyal, Bolt Thrower's eighth studio album, was relased on Metal Blade in November, 2005. ~ Eduardo Rivadavia
full bio
Selected Discography
Similar Artists
Don't have a Pandora account? Sign up
Already have a Pandora account? Log In