Free personalized radio that
plays the music you love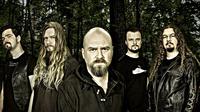 People who also like this
Borknagar are a Norwegian progressive metal group whose sound combines black metal and folk metal, with lyrics centered around themes such as philosophy, nature, mythology, paganism, and the cosmos. The band was established in 1995 by Øystein G. Brun, guitarist for death metal group Molested, who was growing tired of that group's brutal sound and wanted to pursue a more melodic direction. Joining him was an all-star lineup including Garm (vocals, also of
Ulver
and
Arcturus
), Ivar Bjornson (keyboards/vocals, ex-
Enslaved
),
Infernus
(bass), and Grim (drums; also of
Immortal
and
Gorgoroth
). Not wasting any time, their self-titled debut came out early the following year on Malicious Records, who signed Borknagar based on their lineup in lieu of a demo recording. The album featured lyrics entirely in Norwegian, and was the group's most straightforward black metal release, with blasting drums and screamed vocals.
The album landed Borknagar a deal with Century Media Records soon thereafter. Bassist Kai Lie replaced
Infernus
for their second album, The Olden Domain, in 1997; the album featured English lyrics and shifted to a more pagan/folk metal sound. The following year, Borknagar undertook a full-scale European tour in support of
In Flames
. With new vocalist I.C.S. Vortex (b. Simen Hestnaes) and guitarist Jens F. Ryland, Borknagar immediately jumped back into the studio to record and release 1998's progressive The Archaic Course without any breaks in between. Unfortunately, Grim died of a sleeping-pill overdose in October 1999; he was briefly replaced by Justin Greaves, followed by Asgeir Mickelson. For 2000's even more progressive Quintessence album, Vortex took over bass duties, and new keyboardist Lasare signed on.
After the album's release, Vortex left the band to join
Dimmu Borgir
.
Vintersorg
(Andreas Hedlund) became the group's new vocalist, and Tyr (Jan Erik Tiwaz) joined on bass. This lineup recorded Empiricism, which was released in October 2001. The album became one of the group's most popular albums, and was nominated for major music awards in Norway. Halfway through the recording of the band's next album, Tyr left the group, and Mickelson assumed bass duties. Ryland also left the group. Despite the stripped-down lineup, the aptly titled Epic was the group's most ambitious work to date, and the 2004 album was another success. Tyr rejoined Borknagar for 2007's Origin, which was a primarily acoustic effort. The group signed to Indie Recordings at the end of the year, and Century Media released the compilation For the Elements (1996–2006) in 2008.
At this point, Ryland had rejoined Borknagar, and the group was hoping for an early 2009 release for its next album. However, Asgeir left the band on good terms in May 2008, and American drummer David Kinkade joined the group. The group announced its eighth full-length, Universal, in April 2009, with a projected September release date, but the album was delayed until February 2010. Vortex provided guest vocals on the song "My Domain," and soon after, he replaced Tyr (who left again) on Borknagar's live dates before rejoining them full-time. Their deal with Indie Recordings fell through in early 2011, and they signed with Century Media again. Their Norse mythology-themed ninth album, Urd, appeared on the label in March 2012. The full-length was the last Borknagar album to include Kinkade, who left to concentrate on his role as drummer for the band
Soulfly
; he subsequently retired from music to devote more time to his family. Baard Kolstad became Borknagar's new drummer in February 2012. The group spent much of 2014 and 2015 recording its next album, which was set back due to injuries suffered by
Vintersorg
. Winter Thrice finally appeared in early 2016, and the album included a guest appearance by the group's original vocalist, Garm. ~ Mike DaRonco, Steve Huey & Paul Simpson
full bio
Selected Discography
Similar Artists
Don't have a Pandora account? Sign up
Already have a Pandora account? Log In