Free personalized radio that
plays the music you love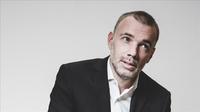 People who also like this
Born in Lower Sackville, Nova Scotia, Richard Terfry (aka Buck 65, Stinkin' Rich) spent the majority of his adolescence as a self-described b-boy. He eventually moved to Halifax in 1989, where he founded a seminal hip-hop show on local college radio. The program (dubbed The Bassment) helped Terfry cement his status as Halifax's premier hip-hop head; inch by inch, artist collaborations, production duties, and club residencies soon followed. During this time, Terfry dabbled with mike duty, often to acclaimed results. While 1992's Chin Music helped him win a deal with local label Murderecords, 1996's Psoriasis (recorded with friend
Sixtoo
under the moniker Sebutones) garnered underground plaudits and 1997's 12" trilogy The Wild Life raised eyebrows overseas.
Buck 65's first well-circulated full-length followed later in 1997; Language Arts was hailed by everyone who heard it as a hip-hop triumph. Fusing Terfry's hard-luck grumble with decidedly lo-fi (but immaculately produced) instrumentation, it trumpeted his (and Halifax's) entry into the hip-hop circuit. In spite of -- or perhaps as a result of -- his tendency to veer toward more opaque territories (Terfry's albums rarely come with any tangible track listing), the big guns soon came calling. Revered turntablist
Mr. Dibbs
was so enamored with Terfry's records that he inducted Buck 65 into seminal underground collective 1200 Hobos. Fraternizing with the likes of heroes such as
Biz Markie
,
Peanut Butter Wolf
, and
Cut Chemist
, Terfry's follow-up was even more inspired. Released in 1999, Vertex was hailed by critics as a progressive, brilliantly conceived concept album, a regulated mix of measured neuroses and marble-mouthed charm.
The follow-up, 2001's Man Overboard, released on the respected underground Anticon, followed on that note, pitting Terfry's numerous personalities against each other, often to brilliant effect. WEA Canada picked up the record and released its follow-up, Talkin' Honky Blues, an excellent collection of introspective stories. A short-lived contract materialized with V2, which released the career-spanning compilation This Right Here Is Buck 65 in 2005, but then the label turned down his next album. As a result, the genre-jumping LP Secret House Against the World appeared that year on WEA, the same label that issued his 2007 album, Situation, which was a return to straight-up hip-hop with production from Skratch Bastid. The 2008 effort Dirtbike was as nontraditional as they come, packaged as a free download of three albums, each featuring just one track.
A year later he joined Belgian producer Greetings from Tuskan and formed the band
Bike for Three!
, who released their debut effort, More Heart Than Brains, in 2009. The 2011 LP 20 Odd Years was primarily sourced from three EPs that shared the 20 Odd Years name, although after the album's release a fourth 20 Odd Years EP arrived with new material. The year 2014 was quite busy, with the release of the
Bike for Three!
album So Much Forever along with the solo Buck 65 album Neverlove through Warner, but he also issued the indie album Laundromat Boogie with songs like "Spin Cycle" and "Dirt Can't Hide from Buck 65," all using a visit to the laundromat as a metaphor for the mating game. ~ Mark Pytlik
full bio
Selected Discography
Similar Artists
Don't have a Pandora account? Sign up
Already have a Pandora account? Log In