Free personalized radio that
plays the music you love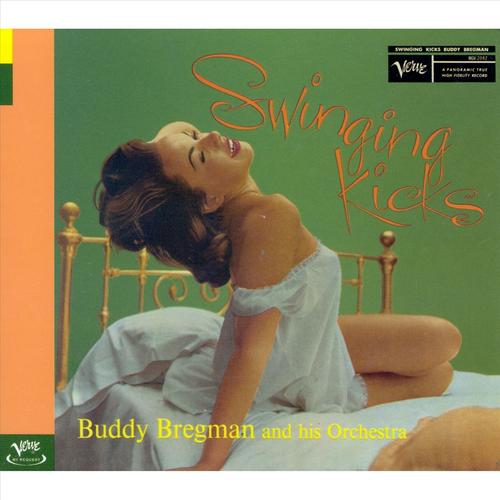 People who also like this
A screenwriter obsessed with jazz shows up at the offices of the production company Bregman Entertainment in Hollywood. He has an appointment to make a pitch to Buddy Bregman, a producer, director, and writer who has also been a great success in the music business as an arranger, composer, and conductor. A current list of Bregman film projects under development includes a drama entitled The Trial of Ezra Pound, so the screenwriter is confident that Bregman won't pass off the movie idea he is about to be offered as too intellectual. It is a variation on Oscar Wilde's classic The Picture of Dorian Gray. In that story, a vain man retains his youth while a bewitched portrait of him simultaneously ages. In the jazz buff's variation, an important reference volume prepared by a major jazz critic adds years on to the lives of various performers by printing incorrect information about their birthdays. Bregman shows the guy the door. It isn't just that he is too busy to listen, overwhelmed by his own responsibilities as "Owner, producer, director, writer, composer, arranger, rehearsal pianist and God knows what else" for Capone: The Musical, just about to open at the The Derby. The subject is too close to home. In The Encyclopedia of Jazz, published in 1960, Bregman's year of birth is listed as 1930, according to some more than a decade off the mark. One would think Bregman belongs to a previous generation. Instead of a young boy marveling at his much older, talented uncle -- Jules Styne,
Sammy Cahn
's songwriting partner, responsible for a veritable blizzard of hits including "Let It Snow! Let It Snow" -- Bregman is incorrectly identified by Feather Styne's sibling. Bregman's professional career began during his sophomore year of college. But he was actually only 17-years old at the time, due to skipping several grades. Bregman got an opportunity to write arrangements for
the Cheers
, a white vocal group -- "You couldn't get three whiter people in this life," Bregman has said -- who were cutting a new song by Leiber & Stoller for the Capitol label. That side was "Bazoom I Need Your Lovin'," which, according to release sheets, came out in 1954. Thus, the thing to hype about Bregman's career is not his age, but rather the opposite, his youth. He seems to have developed advanced talents as a musician at an early age, helped in no small part by the previously mentioned great composer in his extended family, as well as his own parents' wise decision to expose him to lots of live music. Bregman claims to have been able to orchestrate at the age of 11, and three years later had one of his charts performed by jazz musician Bill Russo. Bregman admits that the latter effort was horrible. But he must have made great improvements by the time of his recording debut. "Bazoom I Need Your Loving" was a hit, and veteran producer Norman Granz wound up hearing it on the radio. This led to a terrific career break. Granz was starting up a new record label and offered Bregman a chance to work for him. That label turned out to be Verve, one of the most famous jazz labels. Bregman became the A&R head, but is best known by jazz fans for his arranging and conducting activities on a stack of sides by great singers such as
Ella Fitzgerald
and Anita O'Day. He also made what might arguably be one of
Bing Crosby
's best records, Bing Sings Whilst Bregman Swings. Despite her generously sweet nature,
Fitzgerald
was apparently still unable to hide her initial reaction to the greenhorn producer Granz had hired for her. Her attitude was summarized best by the Italian composer, percussionist, and conductor Andrea Centazzo's reaction to an extra, uninvited dinner guest showing up: "Who the hell is this guy?" A set of double albums devoted to
Cole Porter
and Rodgers & Hart are absolute masterpieces. Interviews conducted decades after these albums were created provide insight into what the young dude brought to the table, aspects that could be easy to overlook in the rush to swoon at
Ella
's feet. This includes Bregman's insistence on playing all the verses originally written for these songs, material that
Fitzgerald
, like most performers of the classic standard song repertoire, would rather leave out.
Verve also gave Bregman the opportunity to put out albums under his own name, such as the action-packed Swinging Kicks in 1956. Bregman's career would lead to television within several years. He became the musical director of The Eddie Fisher Show, and was soon offered his own slot as a kind of a competitive response to Dick Clark. This series, Buddy Bregman's Music Shop lasted for an unlucky 13 shows, hardly knocking Clark off the American Bandstand. Nonetheless there were other, older performers in the music business who thought Bregman was moving ahead too quickly. "I'm 15 years younger than the guys like
Nelson Riddle
and Bill May, who were my contemporaries," Bregman wrote this author in an e-mail. "I was never with a band in my whole life. I just went from wealthy kid to hot arranger, composer, conductor. And they all resented me cause I worked with such big stars and had no real "road-like" experience. But I couldn't care less about what they thought -- I just plowed ahead." Collaborations with some of the greatest singing entertainers were his pasture, as well as television direction and production and film scoring. If this is plowing, hipsters who smile in recognition at names such as
Betty Hutton
,
Sammy Davis, Jr.
,
Annie Ross
, and Roger Corman might want to reconsider farming as a career -- these are all people Bregman has worked with. His stature as a producer and director seemed to advance significantly due to a relationship with Intel, an international production company. This outfit put Bregman in charge of a series of award-winning programs produced in Europe. This success, in turn, led to an invitation from BBC-TV to produce and direct a series of major specials, as well as a series. Bregman was the first foreigner to be given such an opportunity by the BBC. He eventually became the head of entertainment for the London-based ITV network. Prior to returning to the United States, Bregman wrote Jump Jim Crow, the Royal Shakespeare Company's first effort at a stage musical. He was nominated for an Emmy award for the television version of Ain't Misbehavin', a tribute to
Fats Waller
and other musicians of his generation. While it is difficult to pick what the specialty is of this versatile artist, he seems to be consistently involved in tributes to legends of American musical history, including
Bing Crosby
. Another of his film projects in development concerns the relationship between singer
Billie Holiday
and saxophonist
Lester Young
. In television, Bregman has developed more than 50 pilot scripts. ~ Eugene Chadbourne
full bio
Selected Discography
Similar Artists
Don't have a Pandora account? Sign up
Already have a Pandora account? Log In