Free personalized radio that
plays the music you love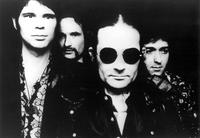 People who also like this
Always at least three steps ahead of contemporary popular music, Can were the leading avant-garde rock group of the '70s. From their very beginning, their music didn't conform to any commonly held notions about rock & roll -- not even those of the countercultures. Inspired more by 20th century classical music than
Chuck Berry
, their closest contemporaries were
Frank Zappa
or possibly
the Velvet Underground
. Yet their music was more serious and inaccessible than either of those artists. Instead of recording tight pop songs or satire, Can experimented with noise, synthesizers, non-traditional music, cut-and-paste techniques, and, most importantly, electronic music; each album marked a significant step forward from the previous album, investigating new territories that other rock bands weren't interested in exploring.
Throughout their career, Can's lineup was fluid, featuring several different vocalists over the years; the core bandmembers remained keyboardist
Irmin Schmidt
, drummer Jaki Leibezeit, guitarist Michael Karoli, and bassist
Holger Czukay
. During the '70s, they were extremely prolific, recording as many as three albums a year at the height of their career. Apart from a surprise U.K. Top 30 hit in 1978 -- "I Want More" -- they were never much more than a cult band; even critics had a hard time appreciating their music.
Can debuted in 1969 with the primitive, bracing Monster Movie, the only full-length effort to feature American-born vocalist Malcolm Mooney. 1970's Soundtracks, a collection of film music, introduced Japanese singer Kenji "Damo" Suzuki, and featured "Mother Sky," one of the group's best-known compositions. With 1971's two-record set Tago Mago, Can hit their visionary stride, shedding the constraints of pop forms and structures to explore long improvisations, angular rhythms, and experimental textures.
1972's Ege Bamayasi refined the approach, and incorporated an increasingly jazz-like sensibility into the mix; Future Days, recorded the following year as Suzuki's swan song, traveled even further afield into minimalist, almost ambient territory. With 1974's Soon Over Babaluma, Can returned to more complicated and abrasive ground, introducing dub rhythms as well as Karoli's shrieking violin. In 1976 they released Flow Motion, which included the hit single "I Want More." 1976's Unlimited Edition and 1977's Saw Delight proved equally restless, and drew on a wide range of ethnic musics.
Their tenth record saw the introduction of Rosko Gee and Rebop Kwaku Bahh, and the sidelining of
Czukay
-- who was reduced to making electronic sounds. Out of Reach was received coolly by critics, and subsequent reissues were never endorsed by the band.
Out of Reach marked what would become a long hiatus in Can's career.
Czukay
was increasingly pushed to the fringes, and the band disintegrated. A self-titled record, also known as Inner Space, was released in 1979 after the band's breakup, and it would be ten years before any new material surfaced. Can briefly re-formed for the 1989 record Rite Time, with original vocalist Mooney, and subsequently regrouped for sporadic live performances and recordings. Karoli died of cancer in 2001.
The intervening years saw a number of reissues and compilations. Most notably, the band released a series of Super Audio CD remasters of their back catalog, which began in 2004 and was completed by 2006; and in 2012 a compilation of studio outtakes and live recordings titled Lost Tapes was released. The collection was compiled by
Schmidt
and son-in-law Jono Podmore, and spanned the period from 1968 to 1977.
In 2017, Liebezeit died of pneumonia. The same year a compilation of the band's singles was released. The Singles drew from their entire career, including the classic Suzuki years ("Vitamin C," "Halleluwah," "Moonshake") and commercial hits like "I Want More," and the previously unreleased track "Turtles Have Short Legs."
Can left behind a body of work that has proven surprisingly groundbreaking; echoes of their music can be heard in
Public Image Limited
, the Fall, and Einstürzende Neubauten, among others. As with much aggressive and challenging experimental music, Can's music can be difficult to appreciate, yet their albums offer some of the best experimental rock ever recorded. ~ Stephen Thomas Erlewine & Bekki Bemrose
full bio
Selected Discography
Similar Artists
Don't have a Pandora account? Sign up
Already have a Pandora account? Log In