Free personalized radio that
plays the music you love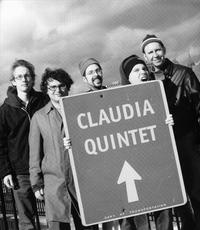 People who also like this
Explorers of modern creative jazz, avant jazz, and a great deal more, the Claudia Quintet were formed in 1997 by drummer/composer
John Hollenbeck
, who was less than eager to give up an existing weekly gig at alt.coffee, an Internet café in New York City's East Village.
Hollenbeck
, accordionist
Ted Reichman
, and bassist
Reuben Radding
, performing as the Refuseniks, had the gig for about a year, but
Radding
abandoned ship to move to Montana -- so, nix on the Refuseniks. Rather than bid adieu to alt.coffee, which had become a hot little gathering spot on the New York downtown music scene,
Hollenbeck
recruited several scenester musicians to form a new band and carry on: reedman
Chris Speed
, bassist
Drew Gress
, and vibraphonist Matt Moran -- along with
Reichman
(by now a proven empathetic player with
Hollenbeck
and the man who had secured the Refuseniks' alt.coffee gig in the first place).
Hollenbeck
named his new band the Claudia Quintet after an alt.coffee patron who had professed enthusiasm for the Refuseniks at the group's first show and promised to return for future performances, but never followed through on her vow. "Claudia" subsequently became a running theme cropping up occasionally in the trio members' conversations; the contours of a life story were even imagined for her.
Hollenbeck
also gave other reasons for naming his new group after the enigmatic Claudia rather than choosing a moniker like, say, the
John Hollenbeck
Quintet; these included emphasizing the group as a whole and avoiding the typical leader-with-sidemen perception, drawing parallels with the naming approach often used by chamber ensembles that play thoroughly scored material, and giving the band "a female quality" -- although to date no Claudia Quintet albums feature actual females as either core bandmembers or guests.
The Claudia Quintet soon proved to be an utterly unique outfit and impressive vehicle for
Hollenbeck
's creativity as a drummer and composer, and a fine showcase for the other bandmembers as well, featuring an unusual mixture of instrumental timbres and a stylistic mélange drawing from cutting-edge jazz, of course, but also
Hollenbeck
's background in modern composition. The quintet's eponymous debut album was released by CRI/Blueshift in 2001 (simultaneous with two other
Hollenbeck
non-Claudia discs), and the group soon attracted attention from the Cuneiform label, which has a long history of work with artists who do not fit in easily categorizable niches. Cuneiform released the band's label debut, I, Claudia, in 2004, and continued its commitment to the Claudia Quintet with a series of releases extending for the next ten years: Semi-Formal (2005); For (2007); Royal Toast (2010), featuring special guest Gary Versace on piano; What Is the Beautiful? (2011), with the quintet supplemented by pianist
Matt Mitchell
and featuring poetry of
Kenneth Patchen
sung by vocalists
Theo Bleckmann
and
Kurt Elling
; and September (2013), in which Red Wierenga replaced accordionist
Reichman
(whose family commitments had taken him to Boston) and the bass duties were split between
Gress
(one of the busiest bassists in modern creative jazz with numerous competing commitments) and Chris Tordini. ~ Dave Lynch
full bio
Selected Discography
Similar Artists
Don't have a Pandora account? Sign up
Already have a Pandora account? Log In